Sisters in the Resistance: How Women Fought to Free France, 1940-1945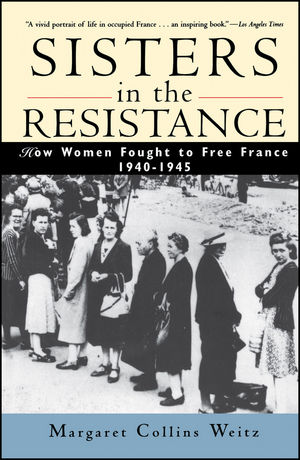 Sisters in the Resistance: How Women Fought to Free France, 1940-1945
ISBN: 978-0-471-19698-3 March 1998 350 Pages
Description
Critical acclaim for Sisters in the Resistance

"Often moving . . . always fascinating . . . women in the FrenchResistance is a key subject. Margaret Weitz has gathered personaltestimonies . . . and set them in an intelligible context thathelps us understand how all French people--men andwomen--experienced the Nazi occupation." --Robert Paxton, MellonProfessor of Social Sciences, Columbia University, and author ofVichy France: Old Guard and New Order, 1940-1944.

"Compulsive reading . . . a valuable book which vividly portraysthe intricacies of resistance within France, written in an easy butserious style." --Times Literary Supplement (London).

"An absolutely stunning and compelling chronicle of dauntlesscourage and unflagging patriotism." --Booklist.

"[Margaret Collins Weitz's] well-researched, thoughtful study. . .has filled a gap in the history of World War II." --PublishersWeekly.

"Balancing absorbing narrative and astute analysis, MargaretCollins Weitz has integrated the unsung achievements of women intothe history of the French Resistance." --Carole Fink, Professor ofHistory, The Ohio State University, and author of Marc Bloch: ALife in History.

"Fifty years after the end of World War II, Sisters in theResistance renders homage to the courageous women of the FrenchResistance. It is high time for their contributions to be fullyacknowledged, and fortunate indeed that they have found such asympathetic, scholarly, and lucid chronicler in Margaret CollinsWeitz." --Marilyn Yalom, author of Blood Sisters: The FrenchRevolution in Women's Memory.
Table of contents
Women and the War-within-a-War.

France under German Occupation.

French Women under the Vichy Regime.

Organizing Resistance in France.

Resistance: A Family Affair.

Young and Alone.

War Is a Man's Affair.

Support Services: Women's Eternal Vocation.

Dangerous Liaisons.

Room and Board: Critical Concerns.

Choosing Roles.

Collaboration.

Conclusion: Women and the Legacy of the Resistance.

Appendix.

Notes.

Bibliography.

Index.