Site Planning and Design for the Elderly: Issues, Guidelines, and Alternatives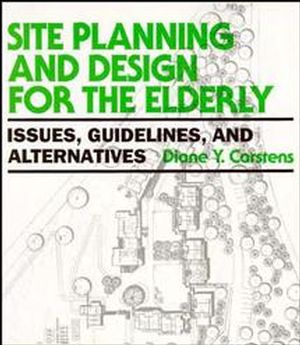 Site Planning and Design for the Elderly: Issues, Guidelines, and Alternatives
ISBN: 978-0-471-28537-3 February 1993 176 Pages
Download Product Flyer
Download Product Flyer
Download Product Flyer is to download PDF in new tab. This is a dummy description. Download Product Flyer is to download PDF in new tab. This is a dummy description. Download Product Flyer is to download PDF in new tab. This is a dummy description. Download Product Flyer is to download PDF in new tab. This is a dummy description.
Description
Design for the elderly is at the forefront of architectural topics today. Yet, while much has been written about the design of indoor spaces, little work has been done on planning outdoor spaces to accommodate the needs of the elderly. Site Planning and Design for the Elderly specifically addresses this issue, drawing from a large body of original research, current knowledge, and theory to provide the background knowledge and specific information necessary for informed decision making throughout the site planning and design process. More than just a reference on accessibility standards, this volume offers key insights into the needs and concerns of older people in the built environment and presents guidelines and alternatives for responsive site planning and design. Organized in a clear step-by-step format for easy reference, issues and specific guidelines are provided for each stage of the planning and design process within the context of housing for older people. Moreover, architects, landscape architects, urban designers, developers and students will find the topics covered applicable to other settings where older people ore a part of the user profile, such as downtown renewal, hospital, and park planning projects. Numerous illustrations and case studies highlight major points throughout the text. The first sections of this volume provide valuable background information on housing options available to seniors and outline design implications of the social and physiological changes associated with advancing age. Critical design and management issues are discussed, objectives are outlined, and implementation strategies are developed, including methods for promoting wayfinding, enhancing personalization, and maximizing opportunities for social interaction. The body of this volume provides specific guidelines for each stage of development. Site planning areas addressed include site selection, the layout of housing units (including relationships between facilities offering different levels of care), recreational amenities, and circulation systems. Detailed guidelines for the location, spatial configuration, detailing, and amenities of major site components and recreational facilities are also provided. Entryways, parking, patios, rooftop developments, and gardening centers are among the specific areas covered. A brief outline of the major issues affecting use of each site component is particularly useful for making decisions regarding facility provision and for prioritizing development alternatives. Critical detailing and amenity specifications are pinpointed and thoroughly described. Paving materials, signage, lighting, site furniture, and pedestrian street crossings are among those elements examined. A concise overview in tabular form of the major guidelines presented throughout closes this practical volume. It is possible to design a site that will not only enhance the lives of elderly residents, but will be cost-effective and highly marketable as well. Site Planning and Design for the Elderly provides practical solutions to the problems of exterior design for one of the fastest-growing segments of the U.S. population today.
Table of contents
DEFINING THE ISSUES.

Low- to High-Rise Housing for Relatively Independent Older People.

The Aging Process.

Designing for the Elderly--General Issues.

Formulating Design Objectives.

SITE PLANNING AND DESIGN.

Site Development Patterns: The Surrounding Neighborhood and On-Site Conditions.

Major Site-Planning Elements.

DESIGNING FOR OUTDOOR USE.

Designing for Recreation and Pleasure Use of the Outdoors.

Site Design Elements for Recreation and Pleasure.

Amenities and Design Detailing.

SUMMARY AND CONCLUSION.

Summary by Design Stage.

Conclusion.

Bibliography.

Appendix.

Index.