Skeletal Development and Remodeling in Health, Disease and Aging, Volume 1068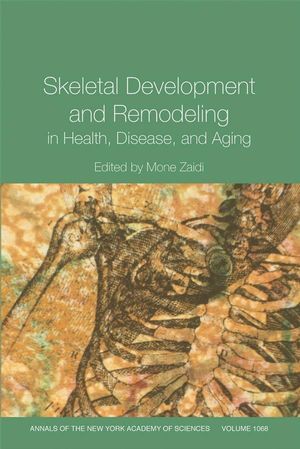 Skeletal Development and Remodeling in Health, Disease and Aging, Volume 1068
ISBN: 978-1-573-31583-8 June 2006 Wiley-Blackwell 596 Pages
Download Product Flyer
Download Product Flyer
Download Product Flyer is to download PDF in new tab. This is a dummy description. Download Product Flyer is to download PDF in new tab. This is a dummy description. Download Product Flyer is to download PDF in new tab. This is a dummy description. Download Product Flyer is to download PDF in new tab. This is a dummy description.
Description
Our understanding of how the skeleton is remodeled and repaired has been enormously expanded in the past decade.
Using advanced molecular technologies including transgenesis, gene knockout, and gene array, we are gaining a better understanding of both the precise pathways through which osteoblasts lay down new bone and how osteoclasts remove old bone. These studies have not only helped us understand the basic biological properties of the skeleton and how it responds to hormonal, cytokine, and mechanical stimulation, but also, in some instances, clarified the source of pathophysiology.

The eventual goal of such discoveries is to lay down a firm scientific foundation for the identification of novel cellular and molecular targets for future drug development. This volume presents the significant headway that scientists have made in this undertaking and the book is organized around four broad themes: skeletal development and repair, molecular endocrinology of bone, bone cell biology, and conservation of skeletal integrity. Also included are papers that focus on current and emerging therapies for osteoporosis.

NOTE: Annals volumes are available for sale as individual books or as a journal. For information on institutional journal subscriptions, please visit www.blackwellpublishing.com/nyas.
ACADEMY MEMBERS: Please contact the New York Academy of Sciences directly to place your order (www.nyas.org). Members of the New York Academy of Science receive full-text access to the Annals online and discounts on print volumes. Please visit http://www.nyas.org/MemberCenter/Join.aspx for more information about becoming a member.
Table of contents
Part I: Skeletal Development:.
1. PTHrP and Skeletal Development: Henry Kronenberg.
2. Regulating Bone Growth with BMPs: Phoebe Leboy.
3. BMP and BMP Inhibitors in Bone: Vicki Rosen.
4. BMP Signaling and Skeletalogensis: Xu Cao.
5. Function of BMP and BMP Antagonist in Adult Bone: Etsuko Abe.
6. Dysregulation of the BMP4 Signaling Pathway in Fibrodysplasia Ossificans Progressiva: Frederick Kaplan.
7. Hypoxia, HIF-1Ą and VHL in Chondrogenesis: Ernestina Schipani.
8. Cellular and Molecular Mechanisms of Synovial Joint and Articular Cartilage Formation: Maurizio Pacifici.
9. Multiple Roles of Hoxc8 in Skeletal Development: Aster Juan et al.
Part II: Skeletal Remodeling:.
10. Osteoclasts and Integrins: Steven Teitelbaum.
11. Regulation of Osteoclast Differentiation: David Roodman.
12. Signaling in Osteoclast and their Precursors: Patrick Ross.
13. Canonical Wnt Signaling in Osteoblasts is Required for Osteoclast Differentiation: Gerard Karsenty.
14. Inhibition of ATF4 Transcriptional Activity by TIAT/ƒ×-Taxilin Modulates Bone Mass: Rene St. Arnaud.
15. Paget's Disease of Bone and Genetic Disorders of RANK/OPG/RANK/NF-ƒÛB signaling: Michael Whyte.
16. The Regulation of Cathepsin K Gene Expression: Bruce Troen.
17. Direct and Indirect Estrogen Actions on Osteoblasts and Osteoclasts: Alberta Zallone.
18. Molecular Mechanism of the Life and Death of the Osteoclast: Sakae Tanaka.
19. Understanding Parathyroid Hormone Action: Nicola Partridge.
20. New Insights Into the Mechanisms Involved in The Pleiotropic Actions of 1,25dihydroxyvitamin D3: Sylvia Christakos.
21. Mechanisms of Vitamin D Receptor Action: Marie Demay.
22. Role of Connexin 43 in Osteoblast Response to Physical Load: Roberto Civitelli.
23. Interactive Effect of Interleukin-6 and Prostaglandin E2 on Osteoclastogenesis via the OPG/RANK-L/RANK System: Xin-Hua Liu.
24. Does TNF Have Anti-Osteoclastogenic Actions?: Jameel Iqbal.
25. Eosinophil Chemotactic Factor-L (ECF-L) Enhances Osteoclast Formation by Increasing ICAM-1 Expression: Garcia Palacios and David Roodman.
Part III: Mechanisms Of Bone Loss:.
26. Bone Cell Precursors and the Pathophysiology of Bone Loss: Harry Blair and Jill Carrington.
27. Autosomal Dominant Pseudohypoparathyroidism Type 1b is Caused by Different Microdeletions Within or Upstream of the GNAS Locus: Harold Jueppner.
28. Estrogen Regulation of Immune Cells Bone Interactions: Roberto Pacifici.
29. Autoimmunity and Bone: Edward Schwarz.
30. Non-Steroid Immune Modulators and Bone Disease: Solomon Epstein.
31. Pathogenesis of Osteopenia/Osteoporosis Induced by Highly Active Anti-Retroviral Therapy for AIDS: Jay McDonald.
32. Pituitary Hormones and Bone Loss: Mone Zaidi.
33. Bone Destruction in Multiple Myeloma: Toshio Matsumoto.
34. Osteogenic Regulation of Vascular Calcification: Dwight Towler.
35. The OPG/TRAIL Complex in an In Vitro Osteoclastogenesis Model Dervied From Human Multiple Myeloma Bone Disease: Maria Grano et al.
36. Restoration of Bone Mass in hpg Mouse by Preoptic Area Grafting: Gopalan Rajendren.
37. IL-7 Drives T Cell-Medicated Bone Loss Following Ovariectomy: Michaela Robbie-Ryan and M. Neale Weitzmann.
Part IV: Restoring Skeletal Strength:.
38. Stem Cells and Tissue Engineering: Past, Present and Future: Julia Polak.
39. Bisphosphonates: From Bench to Bedside: Graham Russell.
40. Novel Targets and Therapeutics for Bone Loss: Ronald N. Margolis and Sunil J. Wimalawansa.
41. Advanced Imaging Assessment of Bone Quality: Harry Genant.
42. Bone Strength: Current Concepts: Charles Turner.
43. Anti-Catabolic Therapeutic Target in Bone Disease: Brendan Boyce.
44. Mechanisms Involved in Skeleton Anabolic Therapies: Jack Martin.
45. Misconceptions About Calcimimetics: Edward Nemeth.
46. Osteoblastic Activation in the Hematopoetic Stem Cell Niche: Laura Calvi.
47. Circulating Cells with Osteogenic Potential: Sundeep Khosla.
48. The Pericellular Matrix as a Transducer of Biomechanical Signals in Auricular Cartilage: Farshid Guilak.
49. Clinical Biophysics: The Promotion of Skeletal Repair by Physical Force: Roy Aaron.
50. COX-2 has a Critical Role During Incorporation of Structural Bone Allografts: Regis O'Keefe.
51. The Effect of Anti-TNF Therapy on Spinal Bone Mineral Density in Crohn¡¦s Disease: Michael Pazianas.
52. Bone Remodeling in Health and Disease: Lessons from Mathematical Modeling: Svetlana V Komarova.
53. Modeling of Serum C-Telopeptide Levels with Daily and Monthly Oral Ibandronate: Mone Zaidi.
54. NFATc1: A Novel Anabolic Therapeutic Target for Osteoporosis: Majd Zayzafoon.
55. Mechanical Loading Differentially Regulates Membrane Bound and Soluble RANKL Availability in MC3T3-E1 Cells: Dae Won Kim and Francis Y. Lee.
Index of Contributors