Skin Delivery Systems: Transdermals, Dermatologicals, and Cosmetic Actives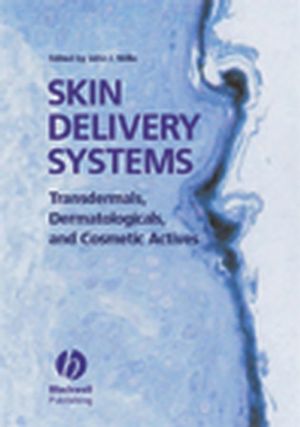 Skin Delivery Systems: Transdermals, Dermatologicals, and Cosmetic Actives
ISBN: 978-0-813-80848-2
Jun 2006, Wiley-Blackwell
404 pages
Description
Current interest in drug delivery technologies is exceedingly high. Similarly, a recent upsurge in consumer awareness of the potential antiaging and antiwrinkling benefits of natural products and botanicals has spurred a revolution in the cosmetic industry for better skin care delivery technologies, both to preserve inherent activity as well as to enhance their benefits through novel formulation and delivery methods.





With these considerations in mind, Skin Delivery Systems: Transdermals, Dermatologicals and Cosmetic Actives brings together the emerging fields of cosmetic actives with new advances in skin delivery technologies and provides a methodical and systematic explanation of technologies used to transport pharmaceuticals and cosmetic actives through the skin's barriers. After reviewing the basic principles of dermatology and skin penetration, the reference describes and explains the most current methods of transdermal transport. Coverage includes new materials, such as amphiphilic polymers; new formulation methods, such as miniemulsions; and variations on technologies such as sonophoresis and iontophoresis. The authors also show the connections between skin penetration and a variety of active substances, including specialized pharmaceuticals and natural and botanical ingredients used in cosmetics. The book presents critical empirical data and design information intended to assist researchers, product developers, and testers in the pharmaceutical and cosmetics industries.
Contributors.
Preface.
Section I: General Skin Considerations.
Chapter 1 Fundamental Concepts in Skin Reactivity- John J. Wille and Agis F. Kydonieus.
Chapter 2 Skin Barrier Strategies- Gopinathan Menon and Marie Duggan.
Chapter 3 Abrogation of Skin Reactions: Methods and Agents- John J. Wille and Agis F. Kydonieus.
Chapter 4 Clinical Perspectives on the Efficacy of Cosmetic Actives (Cosmeceuticals)- Emi Dika and Howard I. Maibach.
Section II: Novel Topical Actives .
Chapter 5 Phytocosmeceuticals- John J. Wille.
Chapter 6 Hydroxy Acid Delivery Systems Application for Treatment of Acne- Shyam Gupta.
Chapter 7 Role of Energy Metabolites in Skin Aging and Protection- L. Declercq , Donald Collins, Reyhaneh Foyouzi-Yousseffi, David Gans, Thomas Mammone, Edward Pelle, Kenneth Marenus, Harvey Gedeon, Daniel Maes.
Section III: Trends in Skin Therapy.
Chapter 8 Current Trends in Dermatologicals- Braham Shroot and Donald Aust.
Chapter 9 Topical Treatment of Skin Diseases- Richard S. Kalish.
Chapter 10 Corneotherapy: Novel Topical Treatments of the Stratum Corneum- John J. Wille.
Section IV: Novel Skin Delivery Systems.
Chapter 11 Skin Care Delivery Systems: Overview- Vispi Kanga.
Chapter 12 Emulsions: Factors and Issues in Formulation-Stig Friberg, Zhuning Ma.
Chapter 13 PharmaDur™: Bioadhesive Delivery System- Kishore R. Shah.
Chapter 14 Thixogel: A Starch Matrix Encapsulation Technology and Topical and Cosmetic Delivery- John J. Wille.
Chapter 15 Nanogels in Cosmetics and Personal Care Products- P. Somasundaran, S. Chakraborty, P. Deo, N. Deo, T. Somaqnundaran.
Section V. Transdermal Drug Delivery Technologies.
Chapter 16 Transdermal Drug Delivery Developments: Patent Review- Agis F. Kydonieus and John J. Wille.
Chapter 17 Chemical Enhancers- Rashmi Thakur, Y. Song, Bozena Michniac.
Chapter 18 Accelerated Development of Topical and Transdermal Delivery Systems- Dominic King-Smith and J.M .Newsam.
Chapter 19 Microneedles for Drug and Vaccine Delivery- John Mikszta, M Ishaq Haider, Ronald Pettis.
Chapter 20 Pulsatile "Smart" Drug Delivery- Steven Giannos.
Chapter 21 Microfluidics for Transdermal Drug Delivery- Joseph Huang.
Chapter 22 Future Considerations for Advanced Delivery Systems- Linda R. Rhein.
Index
* Practical reference focused on new techniques for delivering active agents through the skin
* Explains emerging methods such as iontophoresis and sonophoresis
* Presents new delivery systems, including graft copolymers capable of delivering hydrophilic and hydrophobic drugs
* Investigates microemulsions technologies
* Presents nanotechnological approaches to transdermal drug delivery
* Useful for pharmaceutical, as well as cosmetic company researchers