Skulls to the Living, Bread to the Dead: The Day of the Dead in Mexico and Beyond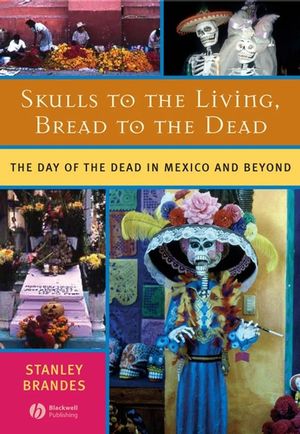 Skulls to the Living, Bread to the Dead: The Day of the Dead in Mexico and Beyond
ISBN: 978-1-405-17870-9 February 2009 Wiley-Blackwell 232 Pages
Description
Each October, as the Day of the Dead draws near, Mexican markets overflow with decorated breads, fanciful paper cutouts, and whimsical toy skulls and skeletons. To honor deceased relatives, Mexicans decorate graves and erect home altars. Drawing on a rich array of historical and ethnographic evidence, this volume reveals the origin and changing character of this celebrated holiday. It explores the emergence of the Day of the Dead as a symbol of Mexican and Mexican-American national identity.
Skulls to the Living, Bread to the Dead poses a serious challenge to the widespread stereotype of the morbid Mexican, unafraid of death, and obsessed with dying. In fact, the Day of the Dead, as shown here, is a powerful affirmation of life and creativity. Beautifully illustrated, this book is essential for anyone interested in Mexican culture, art, and folklore, as well as contemporary globalization and identity formation.
Table of contents
List of Figures and Plates.
Acknowledgments.
Part 1 Introduction.
1. The Day of the Dead, Problems and Paradoxes.
Part 2 Historical Foundations.
2. The Sweetness of Death.
3. Skulls and Skeletons.
Part 3 Contemporary Transformations.
4. Tourism and the State.
5. The Poetics of Death.
6. The Day of the Dead and Halloween.
Part 4 North of the Border.
7. Teaching the Day of the Dead.
8. Creativity and Community.
Part 5 Conclusion.
9. Mexican Views of Death.
References.
Index
Reviews
Shortlisted for the Katharine Briggs Folklore Award 2007
"A cogent, attractively presented case study of a single festival in its diverse forms. It provides a lucid account of cultural change and a careful plotting of causes and influences." (Journal of the Royal Anthropological Institute, March 2009)
"As Brandes explains in this small, well-written, colorfully illustrated volume, the Day of the Dead has strayed far from its origins as a Mexican version of the pan-Roman Catholic All Saints' and All Souls' days to become a spectacular international and interethnic happening ... Recommended." (CHOICE)
"Penetrating look at … how religious ritual can be shaped and transformed by culture … to serve new purposes in a rapidly changing world." (Missiology)
Features


A fascinating look at the Day of the Dead - Mexico's version of All Souls' Day - when Mexicans clean, decorate, and maintain vigil over relatives' graves.

Dispels myths about the rituals, which have been misconstrued as morbid or morose.

Shows that, rather than feeding a national appetite for death, the festival is in fact a powerful affirmation of life and creativity.

Beautifully illustrated with both black and white and colour photographs.