Sleep Disorders in Neurology: A Practical Approach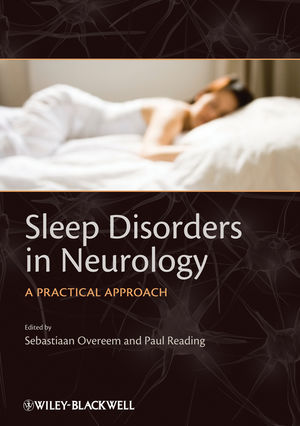 Sleep Disorders in Neurology: A Practical Approach
ISBN: 978-1-444-31516-5
Mar 2010, Wiley-Blackwell
344 pages
Description
Formulate treatment plans with confidence when you consult Sleep Disorders in Neurology, a helpful overview of both common and rare neurological disorders that are frequently accompanied by significant sleep disturbances. This concise guide explains when to consult a sleep specialist in managing a particular sleep disorder and draws on the expertise of neurologists who specialize in the disorders under discussion. This practical guide is fully illustrated and easily digested, providing a counterpoint to large encyclopedic reference volumes. The authors take you from history taking and diagnostic testing, to pharmacological and non-pharmacological treatment options, and are joined by disease sub-specialists in the chapters on disease specific sleep disturbances and the effects of common neurological medications on sleep.

This book is essential for sleep medicine specialists, as well as for clinicians and health care professionals not specifically trained in sleep medicine, but who nevertheless need to manage neurologically damaged patients with increasingly recognized sleep-wake disturbances.
1 Taking a sleep history and use of questionnaires (P. Reading, S. Overeem).
2 Nocturnal PSG: indications, interpretation and pitfalls (J. Shneerson).
3 Daytime tests (MSLT, MWT): indications, interpretation and pitfalls (G.J. Lammers).
4 Diagnostic strategies & classification systems (G Mayer, D Pevernagie).
5 Pharmacological treatment of nocturnal sleep disturbances (S. Wilson, D. Nutt).
6 Pharmacological treatment of excessive daytime sleepiness (Dr Sonka).
7 Non-pharmacological treatment options in sleep medicine (M. Means. Margaret Lineberger).
8 RLS / PLMD (T. Wetter, S. Fulda).
9 Parkinson's disease (I. Arnulf, M. Vidailhet).
10 Parkinson's-plus syndromes (Valerie De-Cock Cochen).
11 Other neurodegenerative diseases (Dr Iranzo).
12 Myotonic dystrophy (Martinez-Rodriguez).
13 Other neuromuscular disorders (John Gibson).
14 Headache disorders (J.C. Rains).
15 Sleep epilepsies (L. Ferini-Strambi).
16 Seizures versus parasomnias (E. Lugaresi & F. Provini).
17 Sleep disorders following head trauma (C. Baumann).
18 Sleep disorders and stroke: causes and consequences (C. Bassetti).
19 Primary neurological sleep disorders (S. Overeem , P. Reading).
20 Neuroimmunological disorders (T. Kanbayashi).
21 Cerebral tumours and paraneoplastic syndromes (A. Iranzo).
22 The effects of commonly used neurological medications on sleep (Dr. G.S.F. Ruigt).
"There is no doubt that having read this book, I will be approaching my patient's difficulties with a new found interest in their sleep-wake cycle. Defining disorders of sleep and how they may manifest and considering strategies for management, will improve quality of life in neurological patients. For this reason I would not hesitate to recommend this book to colleagues as a reference text. "(British Sleep Society Newsletter, January 2011)

"This book provides information on symptoms of sleep disorders along with their causes, as well as management suggestions to help clinicians to promptly recognise and treat patients to improve their quality of life. Overall, I strongly recommend this book for both neurologists specialising in sleep medicine and general neurologists." (The Lancet Neurology, 2010)