Sloterdijk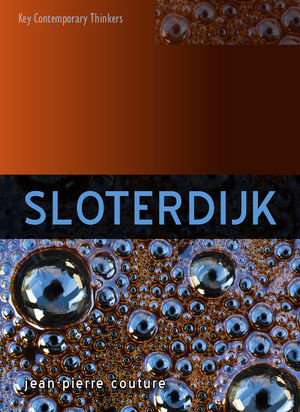 Sloterdijk
ISBN: 978-1-509-50214-1
Jun 2016, Polity
208 pages
Description
This is the first English-language introduction to Peter Sloterdijk, the distinguished German philosopher and controversial public intellectual.
Sloterdijk, in the tradition of Nietzsche and Heine, is an iconoclast who uses humour and biting critique to challenge many of modernity's sacred thinkers, from Kant to Heidegger, in the process radically reinterpreting the canon of Western philosophy. In this unique textbook, leading Sloterdijk expert Jean-Pierre Couture explains in accessible language Sloterdijk's exceptional contribution, breaking his thought down into five key approaches: psychopolitics, anthropotechnics, spherology, controversy, and therapeutics. Sloterdijk's frequent public controversies, with supporters of Habermas and the Frankfurt school in particular, are assessed and their significance for current philosophical debates explained.
This fascinating book will be an essential companion for those interested in the hybrid aesthetics of thought situated at the crossroads of art and philosophy. Its up-to-date analyses of Sloterdijk's recently translated corpus will make it essential reading for all students and scholars of modern European thought.
List of Abbreviations
Acknowledgements
Psychopolitics
Anthropotechnics
Spherology
Controversy
Therapy
Conclusion
Notes
References
Index
"Jean-Pierre Couture's long-awaited essay on Peter Sloterdijk is the first attempt to assess his entire work and it is something of a tour-de-force. Peter Sloterdijk is one of the most inventive, provocative and controversial contemporary philosopher. A disciple of Nietzsche and Heidegger in rupture with the tradition of the School of Frankfurt, he is the most French of German philosophers. He was already something of a miracle when he emerged in the late 80s, and he has consistently remained a game changer. Jean-Pierre Couture's study will definitely fulfill the readers's expectations."
Sylvere Lotringer, Columbia University
"An excellent, intriguing and perceptive study of Peter Sloterdijk's extraordinary work. This is no small task - Sloterdijk is a prolific writer, who covers a wide range of topics, and who is allusive, provocative and often unsystematic. A model of how to write about a thinker whose thought is still in process."
Stuart Elden, University of Warwick
" Sloterdijk's eventful life, colourful style, intellectual ambition, provocative diagnoses, and even more controversial prescriptions are endlessly fascinating."
Church Times