Small Business Employment Law For Dummies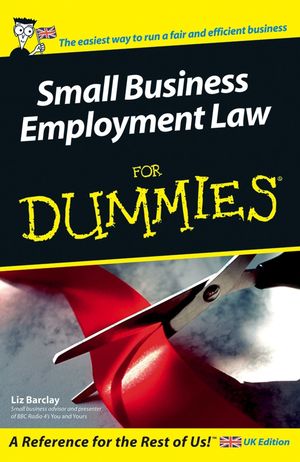 Small Business Employment Law For Dummies
ISBN: 978-1-119-99812-9 February 2011 394 Pages
Description
Includes sample documents for clear guidance and inspiration

Understand your rights and responsibilities as an employer

British small business owners can't afford to learn from their mistakes, especially as regards employment law. This book keeps you onside with the law and onside with your staff too. From hiring and firing through to dealing with wages, pensions, and maternity leave, you'll discover what to do, what not to do, and how to get it right first time.

Discover how to
* Recruit and retain a happy workforce
* Draw up a fair employment contract
* Understand Health and Safety Laws
* Make redundancies the right way
* Manage staff holiday and disciplinary issues
Introduction.
Part I: Hiring and Firing.
Chapter 1: Staying on the Right Side of the Law.
Chapter 2: Finding Person Friday – Advertising and Interviewing.
Chapter 3: Spelling Out the Contract.
Chapter 4: Disciplining and Dismissing Staff.
Chapter 5: Trimming Down to Size – Redundancies.
Part II: Working Hours and Taking Time Off.
Chapter 6: Working All Hours.
Chapter 7: Holidays and Time Off.
Chapter 8: Being Unwell or Throwing a Sickie.
Chapter 9: Having Babies and Bringing Up Kids.
Part III: Keeping Your Workers Healthy and Safe.
Chapter 10: Applying TLC.
Chapter 11: Proceeding with Caution.
Chapter 12: Accidents Do Happen.
Part IV: Respecting and Consulting Staff.
Chapter 13: Saying No to Discrimination.
Chapter 14: Minding Your Own Business.
Chapter 15: Resolving Differences.
Part V: Paying Up – Everything to Do with Money.
Chapter 16: Working Out the Wages.
Chapter 17: Paper Money, Money Paper–Payslips and Deductions.
Chapter 18: Adding Up the Bill for Time Off.
Chapter 19: Figuring Out Final Payments.
Chapter 20: Making Provisions for Life after Work.
Part VI: The Part of Tens.
Chapter 21: Ten Ways to Avoid Problems at Work.
Chapter 22: Ten Sample Documents.
Index.
"…good basic knowledge of how you need to apply the law to your employees." (
Yorkshire Outsourcer
, November 2006)
"...easy to understand...up-to-date advice on managing employment law..." (Tameside Reporter, February 2006)
"...clear guidance and inspiration..." (Lincolnshire Echo, 6th December 2005)