Small Business Management, 5th Edition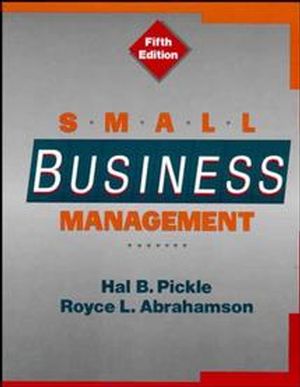 Small Business Management, 5th Edition
ISBN: 978-0-471-50071-1 January 1990 736 Pages
Description
This Fifth Edition retains the practice-oriented approach and informal writing style that made the previous editions so popular. Presents the techniques and methods used in the day-to-day running of a small business enterprise, with updated and extended coverage of the business plan and the growing use of microcomputers. Other topics include franchising, operations, marketing and the role of the government.
Table of contents
ENTREPRENEURSHIP, SMALL BUSINESS OWNERSHIP, AND FRANCHISING.

Entrepreneurship.

Ownership.

Franchising.

ESTABLISHING THE FIRM.

The Business Plan.

Sources of Funds.

Location Analysis.

Physical Facilities.

MANAGING THE SMALL BUSINESS.

Management Strategy and Employee Relations.

Personnel Management.

Microcomputers in Small Business.

Risk Management.

MANAGEMENT INFORMATION AND MERCHANDISE CONTROL.

Financial Recordkeeping and Cash Control.

Accounting Statements and Analysis.

Purchasing.

Inventory Control.

MARKETING THE PRODUCT OR SERVICE.

Marketing Strategy and Marketing Research.

Pricing.

Consumer Behavior and Personal Selling.

Promotional Strategy.

THE GOVERNMENT AND SMALL BUSINESS.

Consumer Credit.

Legal Considerations.

Government Control, Assistance, and International MarketingOpportunities.

Appendix.

The Business Plan.

Small Business-Related Trade Associations.

Private Sector Resources.

Small Business Administration Field Offices.

Small Business Administration Publications.

Index.