Small Dogs, Big Hearts: A Guide to Caring for Your Little Dog, Revised Edition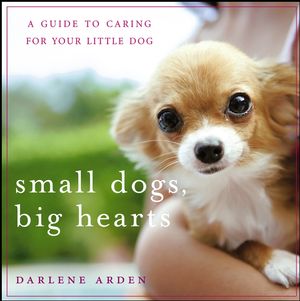 Small Dogs, Big Hearts: A Guide to Caring for Your Little Dog, Revised Edition
ISBN: 978-0-471-77963-6
Jun 2006
256 pages
Product not available for purchase
Description
Small dogs can bring big rewards!

Small dogs are charming, intelligent, and loving, but they can also be overly energetic, manipulative, and stubborn. How do you ensure that your little dog becomes a fun, feisty best friend rather than a tiny terror?

Small Dogs, Big Hearts is an updated and expanded edition of the classic The Irrepressible Toy Dog. It features the very latest, safest, and fastest training methods for little dogs. There's no need to use training methods from the past that don't work well with most dogs, let alone little ones who view the world and their owners from a very different vantage point. You'll find everything you need to know to train your little dog, from housetraining to house manners, in this updated volume.

Small Dogs, Big Hearts follows the small dog from puppyhood through the senior years, giving advice on important topics such as:
socialization
housetraining
behavior
nutrition
healthcare
pampering your pint-sized pooch
With lots of adorable photos, you'll see small dogs at their most charming while you learn to bring out the best in your little bundle of love.

Darlene Arden is widely acknowledged as an authority on small dogs, and is the author of many books and articles about dogs and their care. A member of the International Association of Animal Behavior Consultants, she is a certified animal behavior consultant and a regular contributor to Animal Radio Network.

Words of Appreciation for this book and its predecessor include:

"The voice of experience speaks about the hidden (and not so hidden) life of Toy dogs. Darlene Arden's sensible and practical advice is a must for would-be Toy dog owners. -Dr. Nicholas H. Dodman, Tufts University, Author of The Dog Who Loved Too Much

"Small Dogs, Big Hearts is an invaluable treasure of information… It includes every aspect of puppy care from infancy through adulthood. It is precise, beautifully written, and easily understood by both the professional dog exhibitor and the owner of a beloved family pet. Every person who contemplates purchasing a dog or who has a dog should own this book." - Victor Joris, AKC Toy Group Judge.

"Darlene Arden has come up with an informative book which, just like the little creatures that inspired it, manages to be of serious intent and at the same time entertaining. A thorough instruction manual for small dogs in general, it delves into the breed-specific joys and idiosyncrasies of these mini-sized canine charmers as well."- Lilian Barber, Author, The Italian Greyhound, 21st Century.

"For anyone who has owned a small dog, the best book ever written has been written by Darlene Arden." - Martha Smith, Providence Journal Bulletin.

"At last, we have a book devoted to Toy dogs written by an authority on Toy dog care…This book would be a worthwhile addition to any dog fancier's library." - Glenna Fierheller, Dogs in Canada.

"Arden's breezy, unassuming portrait of the Rodney Dangerfields of dogdom captures everything from their blue-collar feistiness to their charming insouciance." - Ranny Green The Seattle Times.

"If you've never considered yourself a 'small dog person,' this book could change your mind. If you've always loved Toys, you'll feel vindicated. And if you're considering a change of dog to a smaller breed this book will help you to avoid what could be fatal mistakes. The Irrepressible Toy Dog provides good advice for anyone with a dog, but for the Toy person it's a gift of understanding that will shatter the myth that all little dogs are or should be nasty, snappy brats. Brava!" -Karen L. Overall, MA, VMD, PhD University of Pennsylvania School of Medicine. 

A Howell Dog Book of Distinction.
Foreword by Betty White.
Acknowledgments.
Introduction.
Part I: The Very Beginning.
Chapter 1: The Toy Neonate.
Caring for the New Puppy.
Vaccines.
Building the Bond.
The Start of Housetraining.
More Socialization.
Chapter 2: Early Puppyhood.
Early Training.
Introducing Children.
Pride and Groom.
The Name of the Games.
Communication: Beginning the Learning Process.
Who's Training Whom?
Treats and Treatments.
Chapter 3: Homecoming.
The Matchmaker.
The Best Vet.
Preparing the Puppy Layette.
Getting Ready for Your Puppy.
Coming Home.
The First Check-Up.
Settling In.
The Newest Pet.
Part II:  Living in the Real World.
Chapter 4: Housetraining.
Special Problems.
Outdoor Perils.
Questions of Breeding.
A Head Start.
Metabolism and Control.
Here We Go.
Chapter 5: Basic House Manners.
Teething.
Attitude.
Click It!
An Introduction to Aggression.
Little Dog, Big Dog.
Fear Not.
Chapter 6: The Rewards of Training.
Portable Pups.
Another Country Heard From.
The Value of Training.
In a Class by Themselves.
Canine Good Citizen.
Obedience and Other Sports.
Therapy Visits.
School Visits.
Part III:  Sickness and Health.
Chapter 7: Nutrition.
When to Wean?
Wet or Dry?
Looking at Ingredients.
Finding the Right Food.
Avoiding the Finicky Eater.
How Many Meals?
Obesity.
Weather or Not.
The Senior Dog.
Special Diets.
Chapter 8: The Body Eclectic.
Cardiology.
Gastroenterology.
Geriatrics.
Internal Medicine.
Neurology.
Oncology.
Ophthalmology.
Reproduction.
Respiratory Diseases.
Urology.
Chapter 9: Skin and Bones (and Teeth).
Dermatology.
Allergies.
Orthopedics.
Dentistry.
The Spine.
Chapter 10: Surgery and Anesthesia.
Critical Care.
Surgery.
Anesthesia.
Part IV:  What Sets Them Apart.
Chapter 11: Breed by Breed.
Affenpinscher.
Bichon Frise.
Border Terrier.
Boston Terrier.
Brussels Griffon.
Cairn Terrier.
Cavalier King Charles Spaniel.
Chihuahua.
Chinese Crested.
Miniature Dachshund.
English Toy Spaniel.
Toy Fox Terrier.
Havanese.
Italian Greyhound.
Japanese Chin.
Lhasa Apso.
Lowchen.
Maltese.
Toy Manchester Terrier.
Miniature Pinscher.
Papillon.
Parson Russell Terrier.
Pekingese.
Pomeranian.
Toy Poodle.
Pug.
Shih Tzu.
Silky Terrier.
Xoloitzcuintli.
Yorkshire Terrier.
Appendix: Fun and Fabulous Ways to Pamper Your Little Dog.
Resources.
Index.
Small Dogs Big Hearts Sweater
Download the Small Dogs Big Hearts Sweater pattern in PDF format.
Download