Small Molecule DNA and RNA Binders: From Synthesis to Nucleic Acid Complexes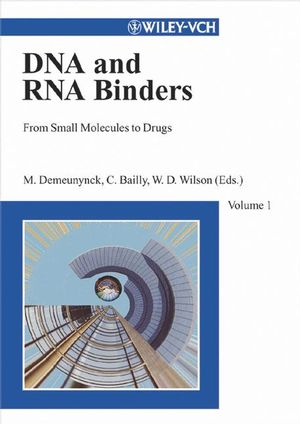 Small Molecule DNA and RNA Binders: From Synthesis to Nucleic Acid Complexes
ISBN: 978-3-527-60566-8 March 2006 754 Pages
Download Product Flyer
Download Product Flyer
Download Product Flyer is to download PDF in new tab. This is a dummy description. Download Product Flyer is to download PDF in new tab. This is a dummy description. Download Product Flyer is to download PDF in new tab. This is a dummy description. Download Product Flyer is to download PDF in new tab. This is a dummy description.
Description
The development of molecules that selectively bind to nucleic acids has provided many details about DNA and RNA recognition. The range of such substances, such as metal complexes, peptides, oligonucleotides and a wide array of synthetic organic compounds, is as manifold as the functions of nucleic acids. Nucleic acid recognition sequences are often found in the major or minor groove of a double strand, while other typical interactions include intercalation between base pairs or the formation of triple or quadruple helices. One example of a binding mode that has recently been proposed is end stacking on such complex structures as the telomere tetraplex. In this comprehensive book, internationally recognized experts describe in detail the important aspects of nucleic acid binding, and in so doing present impressive approaches to drug design. Since typical substances may be created naturally or synthetically, emphasis is placed on natural products, chemical synthesis, the use of combinatorial libraries, and structural characterization. The whole is rounded off by contributions on molecular modeling, as well as investigations into the way in which any given drug interacts with its nucleic acid recognition site.
Table of contents
VOLUME 1.
Preface.
Contributors.
1. Forty Years On (Michael J. Waring and L. P. G. Wakelin).
2. Targeting HIV RNA with Small Molecules (Nathan W. Luedtke and Yitzhak Tor).
3. RNA Targeting by Bleomycin (Sidney M. Hecht).
4. Inhibitors of the Tat-TAR Interactions (Chimmanamada U. Dinesh and Tariq M. Rana).
5. DNA and RNA Recognition and Modification by Gly-Gly-His-Derived Metallopeptides (Eric C. Long and Craig A. Claussen).
6. Salen-Metal Complexes (S. E. Rokita and C. J. Burrows).
7. Charge Transport in DNA (Tashica T. Williams and Jacqueline K. Barton).
8. DNA Interactions of Novel Platinum Anticancer Drugs (Viktor Brabec and Jana Kasparkova).
9. Electrochemical Detection of DNA with Small Molecules (Shigeori Takenaka).
10. Design and Studies of Abasic Site Targeting Drugs: New Strategies for Cancer Chemotherapy (Jean-Francois Constant and Martine Demeunynck).
11. Interactions of Macrocyclic Compounds with Nucleic Acids (Marie-Paule Teulade-Fichou and Jean-Pierre Vigneron).
12. Triplex- versus Quadruplex-specific Ligands and Telomerase Inhibition ( Patrizia Alberti, et al.) 
VOLUME 2.
13. Design and Analysis of G4 Recognition Compounds (Shozeb Haider, et al.).
14. Triple Helix-specific Ligands (Keith R. Fox and Richard A. J. Dardy).
15. Polyamide Dimer Stacking in the DNA Minor Groove and Recognition of T·G Mismatched Base Pairs in DNA (Eilyn R. Lacy, et al.).
16. Dicationic DNA Minor Groove Binders as Antimicrobial Agents (Richard R. Tidwell and David W. Boykin).
17. Energetics of Anthracycline-DNA Interactions (Jonathan B. Chaires).
18. Acridine-4-carboxamides and the Concept of Minimal DNA Intercalators (William A. Denny).
19. DNA Topoisomerase-targeted Drugs (M. Palumbo, et al.).
20. Targeting DNA and Topoisomerase 1 with Indolocarbazole Antitumor Agents (Christian Bailly).
21. Defining the Molecular Interactions that are Important for the Poisoning of Human Topoisomerase 1 by Benzimidazoles and Terbenzimidazoles (Daniel S. Pilch, et al.).
22. Binding and Reaction of Calicheamicin and Other Enediyne Antibiotics with DNA (Joseph P. Cosgrove and Peter C. Dedon).
23. Devising a Structural Basis for the Potent Cytotoxic Effects of Ecteinascidin 743 (Federico Gago and Laurence H. Hurley).
24. The Azinomycins Discovery, Synthesis, and DNA-binding Studies (Maxwell Casely-Hayford and Mark Searcey).
25. The Generation and DNA-Interaction of PBD and CBI Libraries (Alison Hardy, et al.).
Index.