Small Nonprofits: Strategies for Fundraising Success: New Directions for Philanthropic Fundraising, Number 20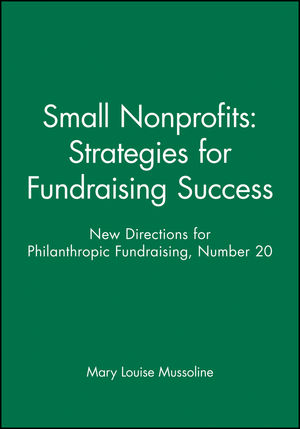 Small Nonprofits: Strategies for Fundraising Success: New Directions for Philanthropic Fundraising, Number 20
ISBN: 978-0-787-94270-0
Dec 1998, Jossey-Bass
109 pages
Description
As advocates for the poor, builders of community, and guardians of the environment, small organizations are big players in the work of the not-for-profit world. This volume of New Directions for Philanthropic Fundraising was written to help people within these small organizations approach fundraising in the same way they approach their programs-with pride, determination, and passion.

The authors consider areas of special importance for small organizations: diversity of income sources, strength of the board of directors, involvement of diverse constituencies in fundraising-issues that all small nonprofits face today. They also discuss more focused topics important to small organizations, such as the conversion of special events donors to annual fund donors and the important human aspects of working with volunteers.

This is the 20th issue of the quarterly journal New Directions for Philanthropic Fundraising.
1. Beyond a hit list: Income planning for small nonprofit organizations. (Patricia Wyzbinski, Pam Moore, Scott Gelzer)
2. The board of directors: Foundation for success. (Frank Martinelli)
3. Staffing fundraising in small organizations. (Marissa C. Weaver)
4. Lessons from a professional volunteer (Barbara A. Stein)
5. Building a fundraising base that reflects the cultural diversity of the organization . (Kim Klein)
6. Putting the benefit back into fundraising benefits. (Tracy Wayson)
7. Small is beautiful-but is it always viable? (Michael Page Miller)