Small Schools, Big Ideas: The Essential Guide to Successful School Transformation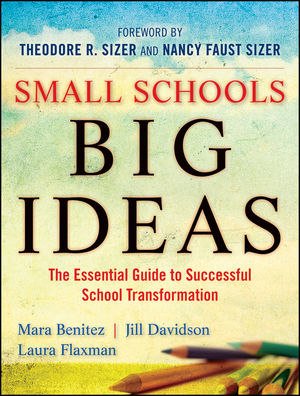 Small Schools, Big Ideas: The Essential Guide to Successful School Transformation
ISBN: 978-1-118-26937-4
Dec 2011, Jossey-Bass
416 pages
Description
Small Schools, Big Ideas shows how the principle-based and equity-focused model from the Coalition of Essential Schools (CES) can be used to redesign existing schools and create new schools that prepare students for this century's challenges and opportunities.

Filled with inspirational stories and illustrative examples from schools that have successfully implemented CES principles and practices, Small Schools, Big Ideas offers information and inspiration needed to:
Transform schools in order to achieve equitable outcomes for all students
Understand various school design options
Establish school vision, mission, and goals to raise educational expectations and results
Develop transformational leadership
Cultivate a professional learning community
Implement student-centered teaching, learning, and curricula
Build productive relationships with families and communities
Establish strategies for sustainability
These recommendations and proven strategies can help educators transform their schools to become truly equitable, personalized, and academically challenging.
Foreword (Theodore R. Sizer, Nancy Faust Sizer).
Acknowledgments.
The Coalition of Essential Schools and the CES Small Schools Project.
The Authors
Introduction: An Academically Challenging Education for All.
Part One: Setting the Stage for Transformation.
1. A Commitment to Equity.
2. Confronting the Challenges.
3. Creating the Climate and Conditions for Change.
Part Two: Essential Principles for School Design.
4. Starting with Vision, Mission, and Goals.
5. Transformative Leadership.
6. Cultivating Professional Learning Opportunities.
Part Three: Essential Principles for Learning.
7. Student-Centered Teaching and Learning.
8. Demonstration of Mastery.
9. Access, Opportunity, and Preparation for Postsecondary Success.
Part Four: Embedding Successful Change.
10. School Culture, Practices, and Community.
11. Strategies for Sustainability.
Appendix A: Coalition of Essential Schools Common Principles.
Appendix B: Coalition of Essential Schools Benchmarks: Principles in Practice.
Appendix C: Profiled Schools and Organizations.
Appendix D: The Benefits of the CES Model: A Look at Recent Research.
Appendix E: Glossary of Useful Assessment Terms.
References.
Index.