Smart Alliances: A Practical Guide to Repeatable Success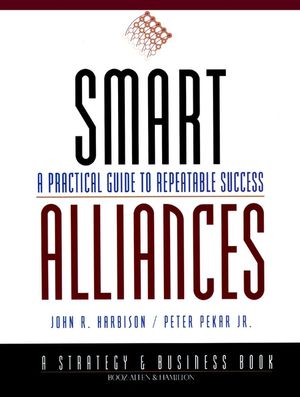 Smart Alliances: A Practical Guide to Repeatable Success
ISBN: 978-0-787-94326-4 October 1998 Jossey-Bass 208 Pages
Description
8 steps to successful strategic alliances--from the experts at Booz Allen & Hamilton

Turn to any business section in any newspaper today and you?ll find no shortage of stories about high-profile international strategic alliances. Many are success stories. The majority, however, are not. Now, you can learn what separates the successes -- like those of Corning, Mazda, and Oracle -- from the failures. In Smart Alliances, the two senior consultants who made Booz-Allen & Hamilton the foremost authority on alliance strategy present eight practical steps any company can take to adopt the best practices of today?s alliance leaders and turn them to their own competitive advantage.

A Strategy & Business Book

For more information on the fast growing and challenging world of Strategic Alliances, click here to visit the smartalliances.com website.
Table of contents
Foreword by William F. Stasior
1. Opportunities and Imperatives
2. The Momentum Behind Alliances
3. Leapfrogging the Learning Curve
4. How Great Alliances Grew: Four Case Studies
5. The Eight-Step Roadmap
6. Lessons And Opportunities Acrooss Borders: The View from Across the United States
7. Legal and Governance Perspectives an Strategic Alliances
8. Institutionalizing Alliance Capabilities: The Secrets of Repeatable Success
Reviews
"An extraordinarily practical guide to making alliances work. Highly recommended to anyone at the sharp end of a strategic alliance." -Gary Hamel, associate professor, London Business School, and coauthor, Competing for the Future

"Harbison and Pekar bring substance and depth to a topic that has all too often been discussed in mere platitudes. Their advice on how to manage cross-border alliances in a rapidly changing global economy is essential reading." -John A. Quelch, Sebastian S. Kreske Professor of Marketing, Harvard University

"As the president of an association that endeavors to provide our membership with practical guidelines for alliances, I found this book to be one of the best guides on the subject-clearly pointing out the successful as well as the unsuccessful routes to higher return on equity through alliances." -Charles H. Conner, president, Association for Corporate Growth

"John Harbison and Peter Pekar have assembled a decade of their writings and consulting experience on alliances into a fascinating manual. Direct and comprehensive, their book represents an unusual combination of thoughtful analysis and pragmatic advice." -Bruce Kogut, Dr. Felix Zandman Professor of International Management, Wharton School, University of Pennsylvania