Smart Business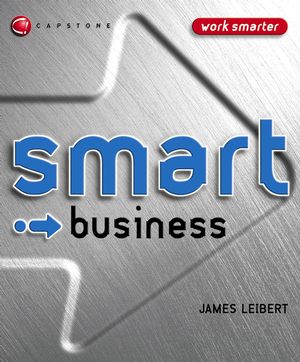 Smart Business
ISBN: 978-1-841-12622-7 January 2005 Capstone 300 Pages
Description
Smart Business is the definitive primer for understanding why companies behave as they do, what the basics of sound business practice are and where the stakeholders fit in. There are a handful of fairly simple but key drivers behind the way businesses operate and James Leibert explains them. Smart Business will enable readers to fast track their business skills.
Smart books are essential primers to the key issues facing business people. They are practical and action-oriented, providing instant knowledge for ambitious and hungry professionals who want to make a lasting impression throughout their career. Smart books are designed to give killer approaches to key business subjects, and deliver sound principles in a style that is both informative and has attitude. They are the prefect resource for time-starved, information-hungry business people everywhere!
Table of contents
Introduction - This is Business.
Smart Business.
Your Place in the Corporate World.
Part I - Efficient Customer Value Creation.
How do Companies Create Value?
Creating Value for Customers.
How to Meet Customers' Needs.
Earning the Customers' Trust.
Persuading Customers to Buy Your Products.
Being Efficient.
Efficiency Gains from Technology Investment.
Learning How to be More Efficient.
Part II - Good Management.
How to Manage.
Management.
How to Delegate.
Strategy.
Forecasting Market Dynamics.
Creating a Lasting Competitive Advantage.
A Systematic Approach to Planning.
Organization.
Designing an Effective Organization.
How to Manage Change.
Keeping Track of the Money.
The Future of Business.
Part III - Achieving Personal Success.
How to Achieve Personal Success in Business.
How to Become a Great Manager.
How to Teach Yourself New Skills.
Appendix.
Index.