Smart Homes For Dummies, 2nd Edition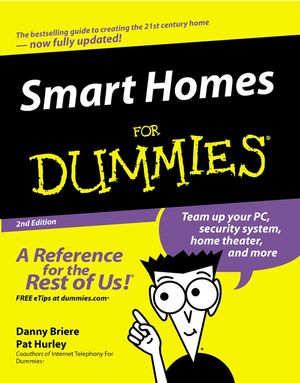 Smart Homes For Dummies, 2nd Edition
ISBN: 978-0-764-52539-1
Jan 2003
384 pages
Product not available for purchase
Description
Most people have had some contact with a network through their work environment – computer local area networks (LANs) in the office, control networks in factories, telephone networks in many mid-sized or larger businesses. The Internet itself is one big network.

Although some folks may think of a network as simply something that helps them do their work, the network concept has begun to move from the workplace to the home address. Smart home builders and remodelers (and forward-looking owners of otherwise perfect existing homes) are starting to think in terms of wiring (or wirelessing) their homes both to make use of a network today and to prepare for future structural requirements.

Smart Homes For Dummies, 2nd Edition, lays out a richly landscaped spread of possibilities in networking your home devices – for convenience, cost control, time-savings, safety, and increased property values. This forward-thinking, fun guide spells out how to
Imagine all the cool stuff that home networks can do
Make your home an entertainment center
Plan a phone system
Design a home-based LAN
Wire a security system
Install and configure all the gizmos
Smart homes never want for innovation; people are constantly inventing things. Stuff that seems niche-oriented and expensive today may be high-volume consumer products tomorrow. Smart Homes For Dummies, 2nd Edition, invites you to take advantage of the latest techno developments as you rev up for the upcoming gee-whiz things that'll make your home a twenty-first century castle.  You'll meet the most recent information and insight on
Figuring how much you're willing to spend
Connecting your kitchen appliances and more
Feeding audio and video from your Media Center
Accessing the Internet all over your house
Integrating a satellite system to create a video network
Untangling cables and components
Seeing what's just over the horizon for telephone service
A home network opens the world to your entire household, and Smart Homes For Dummies, 2nd Edition, provides a plan for your home, sweet home to enjoy all that awaits in an infinite space.
Introduction.
Part I: Future-Perfect Homes.
Chapter 1: Mi Casa, Cool Casa.
Chapter 2: Zen and the Art of Whole-Home Networking.
Chapter 3: Cool Stuff Home Networks Can Do.
Chapter 4: Timelines and Budgets.
Part II: Making Your Home an Entertainment Center.
Chapter 5: Breaking the Entertainment Bottleneck — Without Breaking the Bank.
Chapter 6: Getting Video Where You Want It.
Chapter 7: Wiring a Video Network.
Chapter 8: Bringing You Music.
Chapter 9: Running Audio Here, There, and Everywhere.
Part III: Now We're Communicating!
Chapter 10: Planning a Phone System.
Chapter 11: Making the Phone Connection.
Part IV: Livin' Off the Fat of the LAN.
Chapter 12: A Cornucopia of Computers.
Chapter 13: All Roads Lead to the Net.
Chapter 14: Designing a Data LAN.
Chapter 15: Choosing the Parts for a Wired Data LAN.
Chapter 16: Alternatives to a Wired Data LAN.
Part V: Keeping the Bad Guys at Bay.
Chapter 17: Home Security Boot Camp.
Chapter 18: Wiring a Security System.
Part VI: Putting It All Together — Home Automation and Control.
Chapter 19: Home Automation Extravaganza.
Chapter 20: Making Home Automation a Reality.
Part VII: The Part of Tens.
Chapter 21: Ten Common Pitfalls When Building Your Smart Home.
Chapter 22: Top Ten Toys of the Future.
Index.