Smart Tennis: How to Play and Win the Mental Game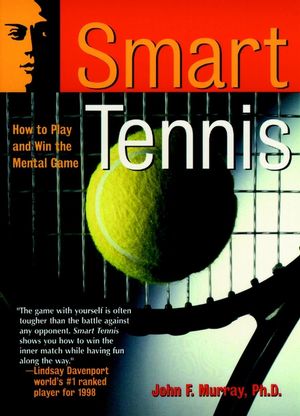 Smart Tennis: How to Play and Win the Mental Game
ISBN: 978-0-787-94380-6 March 1999 Jossey-Bass 272 Pages
Description
"The game with yourself is often tougher than the battle againstany opponent. Smart Tennis shows you how to win the inner matchwhile having fun along the way."--Lindsay Davenport, world's #1ranked player for 1998

Become a More Competent-and Confident-Tennis Player

Smart Tennis is the secret weapon that tucks right into your tennisbag. Apply these proven principles of sport psychology to your gameand gain a winning advantage both on and off the courts.

"Smart Tennis is a must for players at all levels-from beginners toWimbledon champions! An outstanding book for understanding andimproving your mental game."--Vic Braden, tennis telecaster andresearcher

"If you ever want to use the title of this book to describe how youplayed your last match, then Smart Tennis is for you."--DavidHigdon, senior writer,Tennis Magazine

"This is an excellent book of psychological skills that can beimmediately applied on the tennis court."--E. Paul Roetert, Ph.D.,Administration of Sports Science, United States Tennis Association
Smart Sport Series

Preface.(Rick Frey)

Preface.

Acknowledgments.

1 Understanding Your Personal Needs.

2 Attention Control: Staying Focused.

3 Imagery: Your Mind-Body Time Machine.

4 Confidence: Expecting Only the Best.

5 Energy Control: The Right Balance of Power.

6 Goal Setting: Masterminding Achievement.

7 Competition Management: Playing Smart Tennis References.

Recommended Reading.

About the Author.

About the General Editor.

Index.
"If you ever want to use the title of this book to describe how youplayed your last match, then Smart Tennis is for you." --DavidHigdon, senior writer, Tennis Magazine

"The finest book on the mental side of the game he has ever seen... and I've seen most of them." --Ron Waite, teaching professionaland pro tennis photographer

"Smart Tennis is a must for players at all levels-from beginners toWimbledon champions! An outstanding book for understanding andimproving your mental game." --Vic Braden, tennis telecaster andresearcher

"The game with yourself is often tougher than the battle againstany opponent. Smart Tennis shows you how to win the inner matchwhile having fun along the way." --Lindsay Davenport

"This is an excellent book of psychological skills that can beimmediately applied on the tennis court." --E. Paul Roetert, Ph.D.,Administration of Sports Science, United States TennisAssociation

"John offered a practical approach in developing our player'smental skills which are required in today's competitive collegiategame. His expert knowledge of the game enabled him to not onlyrelate well with the team, buthe provided insight and simplesolutions for building mental toughness." --Cari Groce, head coach,tennis, Washington State University

"Today's competitive tennis players are always looking for an edge.In John's book he provides this edge through examining the manypsychological aspects of competition at all levels. He articulatelyoffers insight andsimple solutions for building mental toughness."--Cari Groce, head coach, tennis, Washington State University

"If your goal is to improve your tennis game, or any other sportyou play, then this book is a must buy, read, study and use book.If your goal is to succeed in business then learning and using thetechniques in Smart Tennis is also a must" --Bill Foster,president, Foster Consulting Group

"This book belongs on the list of essentials -- with the extrashirts, socks, sweatbands, racquets, shoes and towels -- for thethe tennis bag of any serious student of the game." --LawrenceJeziak, correspondent for Tennis Week

"John Murray has come out with a smartly written book for alllevels of players who want to improve both on and off the court. Besmart...read it" --Desmond Oon, USPTA Master Professional, authorof "Can Eastern Wisdom Improve Your Tennis?"

"The new book Smart Tennis is an outstanding book for players andcoaches who are trying to play and win the mental game."--TennisPro Magazine

"Smart Tennis gives some excellent advice on the mental side oftennis! --Ace - Britain's Biggest Tennis Magazine

"John Murray continues to produce cutting edge material on themental side of the game. My expectation is that 20 years from nowwe will all regard John as one of the most influential tennispsychologists in the history of the sport." --Cliff Kurtzman,editor-in-chief, Tennis Server

"Always losing to players you think you should be beating? If so,then you need Smart Tennis to help you develop the mental skills tobe a winner!" --Rob Cornell, coaching co-ordinator, Melbourne ParkTennis, home of the Australian Open; ex-regional director for PeterBurwash International

"Although all of the chapters of Smart Tennis are excellent, Iespecially liked the chapter on confidence." --Charlie Garfinkel,Racket sports columnist; world's former #1 ranked racketball player