Smart and Sustainable Built Environments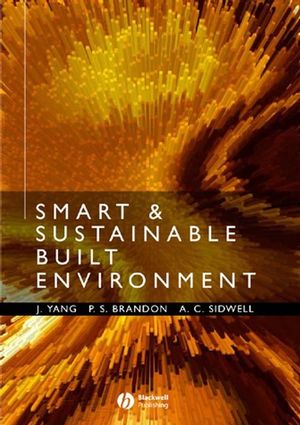 Smart and Sustainable Built Environments
ISBN: 978-0-470-75949-3
Jan 2008, Wiley-Blackwell
368 pages
Description
This book brings together a group of international specialists to explore the current state of the art and future potential for encouraging, developing and implementing smart and sustainable built environment strategies.

It covers a broad spectrum of issues, ranging from technological advancement, through the assessment of past experiences, to communication and education requirements and future strategies.
provides a snapshot of current methods and technologies for developing smart and sustainable built environment strategies
over 30 fully refereed chapters from international experts
addresses the particular requirements and problems of difference areas and climatic regions
Introduction - bridging the gaps in smart and sustainable built environments (J. Yang, P.S. Brandon and A.C. Sidwell)
.
Part I: Creating Smart and Sustainable Cities.
1. Smart sustainable office design - effective technological solutions, based on typology and case studies (A.A.J.F. van den Dobbelsteen, M.J. P Arets and A.C. van der Linden).
2. Sustainable building: perspectives for implementation in Latin America (V.G. Silva and M.G. Silva).
3. Demonstrating New Zealand's future residential buildings (K.M. Bayne, C.D. Kane, R.J. Burton and G.B. Walford).
4. Smart and sustainable city - a case study from Hong Kong (S.S.Y. Lau, J. Wang, and R. Giridharan).
5. Evaluation of scenarios of a Southern-European intelligent city of the future (P. Ombardi adn S. Curwell).
Part 2: Emerging Technologies and Tools.
6. Building as power plant - BAPP (V.H. Hartkopf, D.H. Archer and V. Loftness).
7. Development of a self-contained micro-infrastructure appliance (U. Staschik, H. Hinz, D. Hart, G. Morrison and C. Ives).
8. Concept for a DC-low voltage house (M. Friedeman, A. van Timmeren, E. Goelman and J. Schoonman).
9. Development of Phase change thermal storage wallcoverings in buildings (K. IP, A. Miller, T. Corner and D.L. Dyball).
10. Investigating the energy efficiency of double-skin glass facades for an office building in Istanbul (I. Cetiner and M. Aygun).
11. How to reduce energy-related greenhouse gas emissions in homes and offices in New Zealand (R.M.E Hargreaves).
Part 3: Design, Construction and Operation Issues.
12. The potential for prefabrication in UK housing to improve sustainability (M.T. Gorgolewski).
13. Estimating the increasing cost of commercial buildings in Australia because of green house emissions trading (D.H. Clark, G. Treloar and R. Blair).
14. Raised floor systems for the sustainable fit-out of office buildings (J. Yang and G. Zhang).
15. Sustainable deconstruction of buildings (F. Schultmann).
Part 4: Evaluating Past Experiences and Strategies.
16. Time and the sustainable developments agenda (P.S. Brandon).
17. Is 'Smart' always 'sustainable' in building design and construction (J.Bell).
18. Balanced value - a review and critique of sustainability assessment methods (T. Woolley).
19. Sustainability criteria for housing - a whole-of-life approach (F. Martin and A. Pears).
20. Development of Building environmental assessment tool on a Website and its implementation (N. Yokoo, Y. Kawazu and T. Oka).
Part 5: Managing the Sustainability Knowledge.
21. Managing the time factor in sustainability-a model for the impact of the building lifespan on environmental performance (A.A.J.F. van den Dobbelsteen, A.C. van der Linden).
22. Constructability knowledge management in sustainable design (M.H. Pulaski and M.J. Horman).
23. Sustainability, the built environment and the legal system (D.E. Fisher).
24. Simple and smart SCADA -a survey of user expectations (F. Basiri and T-G Malmstrom).
Part 6: Development Processes.
25. Sustainable building and construction: contributions by international organizations (W. Bakens).
26. Some UK experience of gauging progress on introducing sustainable business practices in the construction sector (J. Cooper, D. Crowhurst, S. Platt and R. Woodall).
27. Developing a sustainable development approach for buildings and construction processes (J. Gibberd).
28. Adoption of Local Agenda 21: local councils' vies on sustainability initiatives (S. Kham and B. Bajracharya).
29. Sustainability assessment considering asset and building life cycles (D.G. Jones, K. Lyon Reid and D.G. Gilvert).
30. Energy efficiency uptake within the project house building industry (M.D. Ambrose, S.N. Tucker, A.E. Delsante and D.R. Johnston).
Keywords Index.
'The book is well conceived, well developed and structrued in terms of chapter organisation, and covers the subject quite well by exposing the reader to a large number of relevant topics' Construction Management and Economics Feb 2007
* provides a snapshot of current methods and technologies for developing smart and sustainable built environment strategies
* over 30 fully refereed chapters from international experts
* addresses the particular requirements and problems of different areas and climatic regions