So Close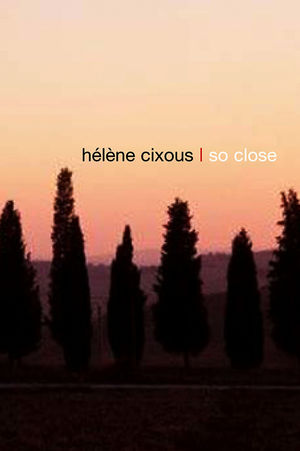 So Close
ISBN: 978-0-745-64436-3
Feb 2010, Polity
176 pages
Description
In So Close, the internationally renowned writer Hélène Cixous recounts a return to her native Algeria after a more than thirty-year absence.  Before she can decide to go, she must sift through large parts of her past in a land where she never felt at home and, from a young age, knew she must leave. Above all, she must confront the depths of her mother's rejection of the country that had rejected her despite years of devotion to the poor women of Algiers. As she is struggling with this decision, she receives a message from Zohra Drif, with whom she has had no contact since their school days, which was just before Zohra joined the Algerian FLN and become a heroine in the uprising against French rule in her homeland. They meet in Paris for the first time in more than fifty years and soon afterward the narrator departs for Algiers.

The latter part of the narrative brings a rush of sensations, impressions, memories, and new encounters as the narrator revisits sites from her past in Algiers and especially in Oran, the city of her birth, the city of the family's happiness before her father's death when she was a young girl. The quest to find his grave again in the overgrown Jewish cemetery of Algiers leads to a startlingly moving scene that closes the voyage and the book.
So Close.
A Translator's Note.
"The pages of
So Close
are soaked with tears ... Cixous's prose - impressively rendered into English by one of Derrida's principal translators, Peggy Kamuf - is hallucinatory, richly allusive and poetic ... sly humour tugs you back into her world, pulls you headlong towards an epiphany, into a great swell of emotion, a rush of memories, sensations, impressions, like the crescendo of a symphony, whose effect is all the more powerful because it cannot be explained or described. The devastating climax of the book is moving beyond words."
Jewish Chronicle
"This translation of a key text marks an important step forward in making Cixous accessible to a wider public. Peggy Kamuf has achieved the impossible, succeeding both in rendering the subtlety of Cixous's thinking and in conveying a sense of the beauty of her prose."
Mairéad Hanrahan, University College London
"So Close is sensationally truthful. It approaches Algeria through the unexpected realms of writing, where literature and reality almost touch. This fiction has a child's ability to believe; a child who has read Proust and the Greeks, lived through history, and can still sense the danger sleeping in a macaroon."
Sarah Wood, University of Kent
A major new book by one of the leading feminist writers in France today

Like many of her books, Cixous blends fiction and autobiography to craft a unique literary work with the distinctive style and voice that have made her world famous

The book recounts the author's return to her native Algeria after a long absence and interweaves intimate descriptions of family and friends with dreams, imagined and real conversations, as well as reflections on the past and future

Her close friend, the late Jacques Derrida, features prominently and this text will therefore appeal to all those who admire both philosophers and are interested in this enduring friendship between them

Cixous is very well-known in the English-speaking world and her work is widely read, especially in the U.S