Soap Opera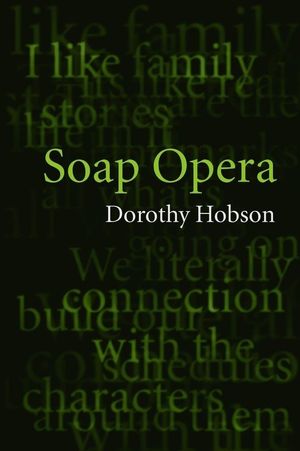 Soap Opera
ISBN: 978-0-745-62654-3 January 2003 Polity 240 Pages
Description
The soap opera is a major form of media art and popular culture. Revered and reviled by fans and critics, its history spans and reflects social change and plays a vital role in the development of broadcasting. This book traces the genre from its beginnings on American radio in the 1930s to the international television genre it has become today. While concentrating on British soap operas, it also discusses the influence of their American and Australian counterparts.
This is the first book to consider the soap opera within the economy of broadcasting; it includes a chapter based on interviews with leading broadcasting executives who give their analysis of the importance of the soap opera to their industry. The perspective of television producers as well as the views of audiences are also taken into account.

Accessibly written, Soap Opera links the genre to both its media and its literary heritage, and argues that soap operas cross international boundaries through the universal appeal of their characters and their stories. It will be of particular interest to students of media and cultural studies, literary studies, sociology and television production courses, as well as to professionals in the television industry.
Table of contents
Acknowledgements.
Preface: Why Soap Opera?.
Introduction: History and Theories.
Part I: The Soap Business.
1. Soap Opera and the Broadcasting Industry.
2. Elements of Production: Features of the Form.
Part II: The Content of Soap Operas.
3. Soap Stars: Actors and Icons.
4. Soap Opera and Everyday Life: Decades of Domestic Drama.
5. The Big Issues.
Part III: Soap Opera and its Audiences.
6. A Universal Form.
7. The Cultural History of Soap Opera and the Audience.
References.
Index
Reviews
"This book achieves what media studies researchers have spent two decades striving for: a comprehensive study for a television text plus on in-depth account of the audience's relation to the text, solidly grounded in empirical evidence, and in the context of the economics of broadcasting. It is the best book I've ever read about soap opera, and one of the best I've ever read about television."
Ellen Seiter, University of California, San Diego

"Dorothy Hobson understands soap opera's power to involve TV viewers better than any-one alive. This remarkable study is of compelling interest to the soap addict, to the general reader and to the student of mass media's money magic. A rewarding read."

Jeremy Isaacs, Founding Chief Executive, Channel 4

"The art of TV soap opera has finally come of age and is recognized by audience and critics as quality drama. This book is the definitive to the genre, and will prove indis-pensable to fans and academics alike."

Mal Young, BBC Controller, Drama Series
What's New


A lively and accessible introduction to one of the most popular genres of broadcasting



Traces the form of soap opera from its beginnings on American radio in the 1930s to the international television genre it has become today


Provides a comprehensive perspective, taking account of the views of television producers and of audiences


This is the first book to consider the soap opera within the economy of broadcasting and includes interviews with broadcasting executives who analyse the importance of the soap opera to their industry



Written by one of the leading scholars in the field