Social Beings: Core Motives in Social Psychology, 3rd Edition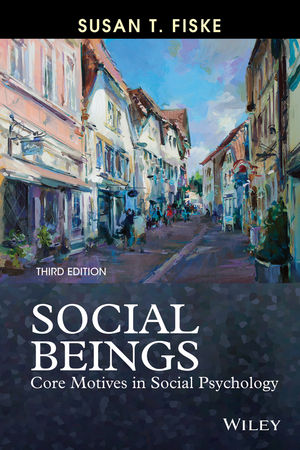 Social Beings: Core Motives in Social Psychology, 3rd Edition
ISBN: 978-1-118-80376-9
Dec 2013
706 pages
Description
Providing an entertaining yet responsible look at how humans influence each other, Social Beings, 3rd Edition offers a refreshingly new approach, while maintaining the standard chapter topics of traditional social psychology texts.
Focusing on the five core social motives-to belong, to understand, to control, to self-enhance, and to trust, author Susan Fiske provides a highly readable and engaging narrative flow that integrates material showing the field's relevance to human problems and incorporates motivation, social evolution, and culture, not as after-thoughts, but as intrinsic features of the text. The third edition seamlessly mixes classic research with cutting edge topics that affect the current world of social psychology.
Chapter 1 Introduction: Adaptive Motives for Social Situations, Via Cultures And Brains
Chapter 2 Scientific Methods for Studying People in Interaction
Chapter 3 Ordinary Personology: Figuring Out Why People Do What They Do
Chapter 4 Social Cognition: Making Sense of Others
Chapter 5 The Self: Social to The Core
Chapter 6 Attitudes and Persuasion: Changing Hearts and Minds
Chapter 7 Attraction: Initiating Romance, Friendship, and Other Relationships
Chapter 8 Close Relationships: Passion, Interdependence, Commitment, and Intimacy
Chapter 9 Helping: Prosocial Behavior
Chapter 10 Aggression: Antisocial Behavior
Chapter 11 Stereotyping, Prejudice, and Discrimination: Social Biases
Chapter 12 Small Groups: Ongoing Interactions
Chapter 13 Social Influence: Doing What Others Do and Say
Chapter 14 Conclusion: Social Beings
Updated literature throughout the text.
Emphasizes the core social motives: Belonging, Understanding, Controlling, Enhancing Self, and Trusting.
Presents a truly social approach to adaptation that is at once progressive, responsible, and complete.
Offers a balanced view of the intellectual development of the field, featuring both classic materials that provide a historical context and cutting-edge work that demonstrates contemporary excitement.
Weaves coverage of gender and ethnicity into the narrative of the text.
Integrates culture throughout, providing students with a realistic sense of how social psychology operates in an increasingly multi-cultural world.
Applications, which are integral to the chapters, demonstrate the utility of social psychology to solve real-world problems.