Social Capital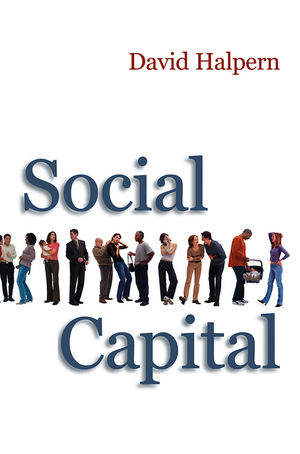 Social Capital
ISBN: 978-0-745-62547-8 December 2004 Polity 400 Pages
Description
The concept of 'social capital' is currently the focus of an explosion of interest in the research and policy community. It refers to the social networks, informal structures and norms that facilitate individual and collective action. This explosion of interest is driven by a growing body of evidence that social capital has enormous effects on economic growth, health, crime and even the effectiveness and functioning of governments.
David Halpern provides a guide through the many and sometimes confusing definitions of social capital. The various literatures examining the empirical consequences of social capital are brought together from across academic disciplines to demonstrate a remarkable range of effects. A model is then presented to account for the causal pathways that create social capital, and that lead from social capital to its outcomes. International evidence is used to establish whether social capital is on the decline, and the thorny question of whether social capital can harm or exclude is also examined. Finally, the policy implications are considered, including how social capital can be measured, created and utilized.

Social Capital offers an overview of one of the most important and exciting areas to emerge out of the social sciences in many years. It assumes no previous knowledge of the literature or statistics, and will be of interest to students and researchers in politics, sociology, social administration and social psychology and to the general reader interested in finding out more about how social capital affects all our lives.
Table of contents
Preface
Chapter 1: Introduction: concepts, history and measurement
Chapter 2: Economic Performance
Chapter 3: Health and Well-Being
Chapter 4: Crime
Chapter 5: Education
Chapter 6: Government and the Effective State
Chapter 7: Trends in Social Capital
Chapter 8: Causes
Chapter 9: Policy Implications
Notes
Bibliography
Index
Reviews
"This is an excellent book. It is well-written in an informal and engaging style. It is very comprehensive in coverage, both in terms of large topics and in terms of the relevant literature. It is nuanced, balanced, and authoritative in tone. The micro-, meso-, macro-framework works very well indeed. This book will instantly become the best overall introduction so far to the rapidly increasing literature on social capital. I will surely use it in my own graduate and undergraduate teaching. This is a kind of book that I wish I had written myself."
Robert Putnam, Harvard University; author of Bowling Alone
What's New


Provides a comprehensive guide to the concept of social capital for students, scholars and policy makers.


This book brings together for the first time, from across a wide range of academic disciplines, the literature examining the different forms and consequences of social capital.


Offers an overview of one of the most exciting areas to emerge out of the social sciences in many years


Assumes no prior knowledge of the literature or statistics, and will be of interest to students and researchers in politics, sociology, social administration and social psychology