Social Development, 2nd Edition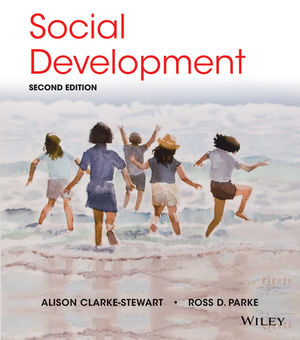 Social Development, 2nd Edition
ISBN: 978-1-118-42518-3
Jan 2014
598 pages
Description
Social Development, Second Edition offers students a fresh and unique set of perspectives on social development. Both students and instructors will find this text to be comprehensive, scholarly, engaging, and include up-to-date treatment of theoretical insights and empirical findings in the field of social development.
Throughout Social Development, authors Alison Clarke-Stewart & Ross D. Parke highlight cultural variations from around the world and within our own society. They emphasize the biological underpinnings within the field of social development in a separate chapter (Chapter 3), and present discussion of research on the cutting edge of the field to capture the excitement of recent advances in this area.
Preface xv
Part I Theories, Themes, and Tools for Discovery
Chapter 1 Introduction: Theories of Social Development 
Chapter 2 Research Methods: Tools for Discovery 
Part II Early Tasks of Social Development
Chapter 3 Biological Foundations: Roots in Neurons and Genes
Chapter 4 Attachment: Forming Close Relationships
Chapter 5 Emotions: Thoughts About Feelings
Chapter 6 Self and Other: Getting to Know Me, Getting to Know You 
Part III Contexts of Social Development
Chapter 7 Family: Early and Enduring Influences 
Chapter 8 Peers: A World of Their Own
Chapter 9 Schools, Mentors, Media: Connections with Society 
Part IV Processes and Products of Social Development
Chapter 10 Sex and Gender: Vive La Différence?  
Chapter 11 Morality: Knowing Right, Doing Good
Chapter 12 Aggression: Insult and Injury 
Part V Policy and Prospects
Chapter 13 Policy: Improving Children's Lives 
Chapter 14 Overarching Themes: Integrating Social Development 
Glossary 469
References 479
Author Index 585
Subject Index 607
Emerging Leaders – In Chapter 14, showcases 17 young scholars who are helping to shape the direction of research and policy in social development.  Combined with the Learning from Living leaders feature, it encourages students to appreciate the ways in research is conducted by real people and gives them some inspirational messages about the research process.
A second new feature is the addition of quotes from children and parents (real and hypothetical) have been added to the text and interspersed throughout the book and highlighted in color with the goal illustrating key research findings by showing how they relate to children and families.
We have revised Social Development to include the most recent developments in theory, research and policy. The authors have added over 500 new references to their review of the field of social development. In addition the movies accompanying each chapter have been updated
This revision includes more description of the ages of the research participants so students can more fully appreciate variations in children's developmental capabilities.
New topics added in this revision including role of religion in development, achievement, natural mentors and mentoring programs, sexualization of children and teens by media exposure.
An emphasis on cultural diversity: Each chapter illustrates cultural variations both in the text and in highlighted sections that provide a more detailed examination of a particular culture or cultural issue.
An emphasis on biological underpinnings: In the last decade, there has been increased recognition that to understand social development, it is necessary to probe its biological underpinnings. This text devotes a separate chapter to biological influences on social development, and also introduces biological factors in discussions of specific aspects of social development throughout the book.
Concern with Social Policy: Every year governments spend millions of dollars on programs for children. Parke & Stewart-Clarke review many of these policies and programs aimed at improving the social lives of children, underscoring the fact that there is a constant interplay between basic research and social policy for children.
Throughout the book there are eight highlighted sections addressing contemporary themes and interesting issues in social development. 

"Into Adulthood" sections largely focus on social development in infancy, childhood, and adolescence. However, because social development does not stop there, these highlights illustrate:

how social behavior changes in adulthood,
how adult social behavior is influenced by earlier events in childhood, and
how adolescents manage the transition to adulthood.

"Research Up Close" looks at a single study or set of studies in detail to provide students with a fuller appreciation of the methodological complexities of research on social development.
"Real World Application" sections provide examples of how basic science is translated into real-world applications - such as new ways of controlling violence, school programs for improving children's social skills, and consequences of cyberbullying.  
"Cultural Contexts" sections identify descriptions of differences and similarities in children's temperaments, attachment relationships, and self-concepts around the globe.
"Bet You Thought That…" challenges the readers' assumptions about how social development works by providing counter-intuitive illustrations.
"Insights from Extremes" shows how extreme cases have led to insights about social development.
"Learning from Living Leaders" puts a face on researchers in the field and shows readers some of the paths that lead to becoming a research leader.
"At the Movies" sections describe recent movies that illuminate important themes in each chapter