Social Development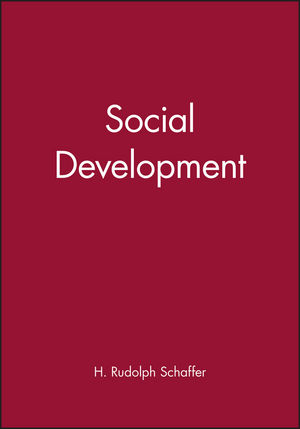 Social Development
ISBN: 978-0-631-18574-1 November 1996 Wiley-Blackwell 464 Pages
Description
This textbook provides a fully up-to-date account of our knowledge of children's social development. It is addressed to students of psychology and other social sciences with no or only limited knowledge of child development, and covers an age up to and including adolescence. The content is organised according to themes, but these themes follow an approximated developmental progression.
Table of contents
1. The Study of Social Development:
.
The Questions Posed.
Conceptions and Preconceptions.
Methodological Considerations.
Summary.
2. Biological Foundations:.
Evolutionary Perspective.
The Genetics of Behaviour.
Bases of Individuality.
3. Constructing the First Relationships:.
Early Interactions.
From Non-verbal to Verbal Communication.
Attachment: Nature and Development.
Attachment: Individual Differences.
Summary.
4. Sense of Self: Sense of Other:.
The Self. Knowledge of Others.
Sex-Role Development.
Summary.
5. Families, Parents and Social-Interaction:.
Families as Systems.
The Nature of Parenting.
Socialization Processes.
Summary.
6. From Other-Control to Self-Control:.
Parental Control Techniques and Child Compliance.
Learning Social Rules.
Prosocial and Antisocial Behaviour.
Moral Development.
Summary.
7. Extrafamilial Relationships:.
Peer Relationships.
The Child in Society.
Summary.
8. Social Experience and its Aftermath:.
Reversible or Irreversible?.
Multiple Outcomes.
Continuity and Discontinuity.
Summary.
References.
Author Index.
Subject Index.
Reviews
"This is am impressively scholarly and clear presentation of the key ideas and evidence concerning children's social development - conceived in the broadest terms. Rudolph Schaffer's judicious consideration of the latest ideas as well as the grand theories of psychology is illustrated by many examples of major current social and practical importance, such as divorce, bullying, school effects and daycare. It will be invaluable to both students and their teachers, and a great addition to libraries."
Professor Judy Dunn, Institute of Psychiatry
"Social Development is vintage Schaffer: timely, scholarly and interestingly written. Schaffer has captured the recent excitement and change that characterized the field in a way that is accessible and enjoyable. This volume solidifies his reputation as one of our finest chroniclers of the field of social development ... recommended not only for undergraduates but for all who are curious about children's social lives." Professor Ross D. Parke, University of California at Riverside
"This book is a winner. Produced by a first-rate researcher who can also write, this text rivals the best in the field and will be a boon to students and instructors alike ... Three features of this new work standout: its organization, the quality and directness of the writing and the integrity and recency of the empirical sources. Professor Schaffer is, of course, a leading figure in the field of social development research and one expects good things from him. In this book, he breaks up the field into a small number of sections, successfully integrating vast amounts of empirical and theoretical work within each. He begins with biological foundations... moves on to relationships and their developmental significance; and then moves to the origins and ramifications of self. Two additional areas are well treated: 'other-to-self control' and 'social experience and its aftermath'. Professor Schaffer captures much of the excitement currently marking this research areas without patronizing student readers, on the one hand, or talking over their heads, on the other. All of us who teach courses in social development - whether they be undergraduate or graduate courses - are indebted to Professor Schaffer for writing this excellent book." Professor Willard W. Hartup, University of Minnesota
"This is a masterly book by a true master of the field, which, although intended as a textbook for undergraduate students of psychology, is an equally valuable source for those of wider experience." Journal of Child Psychology and Psychiatry
"Schaffer's book aims to report a fully up-to-date account of 'social aspects' of children's development. And with very few exceptions Social Development fulfils its ambitions." BPS Developmental Psychology Newsletter, Spring 98
"This a masterly book by a true master of the field, which, although intended as a textbook for undergraduate students of psychology, is an equally valuable source for those of wider experience. Schaffer brings a depth of knowledge and understanding, which makes it possible for him to present material with elegant simplicity, providing a coherent picture of the history, development, and current knowledge of the field for neophytes, but at the same time offering the busy clinician, or academic needing material for a lecture, considerable detail and an incisive critique of many aspects of the psychology of social development. It is a long and very full book, made accessible and readable by the clarity of the writing, which gives the reader the sense of being told a fascinating account by an enthusiast, the author often adding just that extra linking idea or piece of information needed to make sense of the whole and to integrate ideas and findings. The main argument is also admirably extended by illustrative case material set in shaded boxes." Terence Gaussen
"Social Development is a sophisticated, well-written and, at times, quite demanding book which would serve as an outstanding text for intermediate and advanced undergraduate courses in this area. There is much I admire about Social Development. What distinguishes it as an outstanding textbook is that it conveys a great sense of the field's achievements whilst simultaneously drawing attention to its problems and the need to qualify many empirical statements with a host of caveats. This balance is struck very cleverly. Schaffer has produced an excellent state-of-the-art textbook which should be given serious consideration by anyone teaching in the field of social development." Mark Bennett, University of Dundee, Journal of Developmental Psychology
What's New
Written specifically for undergraduates with no or little knowledge of child development, and includes a variety of pedagogical features to help them
Fully up-to-date account which reflects current trends in the field
The only text to stress the practical implications of research findings.