Social Ethics: A Student's Guide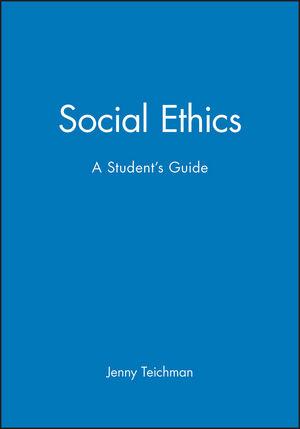 Social Ethics: A Student's Guide
ISBN: 978-0-631-19608-2
Nov 1996, Wiley-Blackwell
200 pages
Description
Social Ethics is an animated introduction to moral philosophy and the key ethical issues of today, and will serve as the ideal text for undergraduate courses in applied, practical and social ethics.
Preface.
Part I: Ethical Bedrock:.
1. Morality and Humanity.
2. Egoism, Relativism, Consequentialism.
3. Ethical Bedrock.
Part II: A Defence of Humanism:.
4. Human Beings and Persons.
5. Human Beings and the Other Animals.
6. Human Beings and Machines.
Part III: Deaths and Lives:.
7. Euthanasia: For and Against.
8. Euthanasia: Logic and Practice.
9. Abortion.
10. Professional Ethics.
Part IV: Ideology and Value:.
11. Feminism and Masculism.
12. Freedom of Thought and Expression.
13. The Right, the Left and the Green.
Appendix I: Natural Rights as Justifying the Authority of the State.
Appendix II: The Controversy about Euthanasia, a Sample Case.
Glossary.
Bibliography.
Index.
"Her style is clear and matter-of-fact, and it is easy to find one's way in her book. Teichmas has also an interesting approach to ethics and I have experienced the study of her book as rewarding. So her book can certainly be recommended."
Finngeir Hiorth
"It is very well-written, and stimulating on professional ethics and animals; still more so on euthanasia ... It is an enjoyable book. I think it will be eagerly read by students." Professor G E M Anscombe, University of Cambridge
* Advocates a rights-based approach to contemporary ethical issues.
* Offers an alternative to prevailing consequentialist concerns within the ethical debate.
* Discusses animal rights, euthanasia and environmental issues.