Social Justice in a Global Age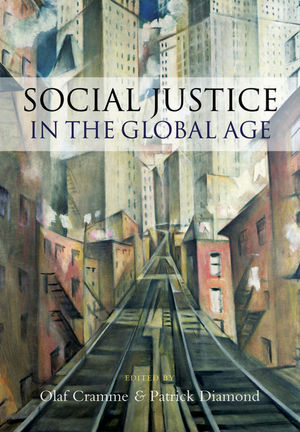 Social Justice in a Global Age
ISBN: 978-0-745-64420-2
Apr 2009, Polity
256 pages
Description
What is the relationship between the principles of social justice and global justice? How can we best reconcile the quest for greater social justice 'at home' with greater social justice in the world? Are the social justice pressures our societies currently face the result of globalisation or are they domestically generated? How can we advance social justice in the light of the new social realities? In this volume, leading international experts offer compelling answers to these questions.

The aim of this volume is to articulate a modern conception of social justice that remains relevant for an era of rapid globalisation. The authors have developed a robust theoretical account of the relationship between globalisation and social justice complemented by an underpinning policy framework that aims to sustain new forms of equity and solidarity.
About Policy Network vii
About the Contributors viii
Acknowledgements xii
Introduction
1 Rethinking Social Justice in the Global Age 3
Olaf Cramme and Patrick Diamond
I Principles
2 Social Justice versus Global Justice? 23
David Miller
3 Towards a Renewed Concept of Social Justice 38
Wolfgang Merkel
II Analysis
4 Winners and Losers of Economic Globalisation 61
Lionel Fontagné
5 Globalisation and Demographic Imbalances 77
Germano Dottori
6 Globalisation and the New Social Realities in Europe 94
Roger Liddle
III Political Economy
7 Moving Beyond the National: The Challenges for Social Democracy in a Global World 117
Andrew Gamble
8 Social Justice in a 'Shrinking' World: Beyond Protectionism and Neo-liberalism 136
David Coates
9 Globalisation, New Technology and Economic Transformation 154
Robert Atkinson
IV Policy Framework
10 Solidarity Beyond the Nation-State? Refl ections on the European Experience 177
Maurizio Ferrera
11 Spatial and Gender Inequalities in the Global Economy: A Transformative Perspective 195
Diane Perrons
12 Addressing Adverse Consequences of Globalisation for Workers 219
Anke Hassel
13 The Progressive Challenge: Shared Prosperity 239
Gene Sperling
Index 259
"A very satisfying collection."
International Affairs
"This is a visionary work concerned with what the principles of social justice 'ought' to be in the global age."
Political Studies Review
"Presents a wealth of ideas that will be valuable not only for those in the academic and political spheres, but also for leaders of foundations and NGOs working to promote social and economic development."
Effect
"A 'must read' for all searching for a way to make globalisation more equitable and to renew social policies at a time of ever-growing interdependence. The huge challenge of the financial and economic crisis of 2009 makes these reflections all the more timely."
Kemal Dervis, Former Head of the United Nations Development Programme, and author of A Better Globalization: Legitimacy, Governance, and Reform
"From the wreckage of the world's financial system two insights emerge. Global economic integration demands stronger global governance; and the political legitimacy of globalisation depends on an equitable distribution of the fruits of prosperity. Economic efficiency cannot be separated from social justice. This collection of essays provides essential reading for the most important debate of our times."
Philip Stephens, Associate Editor, Financial Times
"Cramme and Diamond have produced a very timely collection given growing protectionist impulses and the urgent need to rethink the governance of globalisation. These original and reflective essays, written by key thinkers and advocates in the field, challenge orthodox thinking about social justice under conditions of economic globalisation. At this moment of global crisis this book deserves to be read as a reminder that duties to our compatriots and to others must be and can be reconciled."
Tony McGrew, Professor of International Relations, Southampton University, and co-author of Globalization/Anti-Globalization
This fascinating volume brings together important contributions from key authors to examine the relationship between social justice and global justice.

The introduction by the Editors provides a clear overview of the the articles featured as well as explaining the need to provide a modern conception of social justice in an era of globalization.

The essays address many themes in relation to this central issue of social justice, such as the effect on gender inequalities and the impact of migration.

This provides an interesting account of the impact of globalization and how this will shape the future of social justice.