Social Media Commerce For Dummies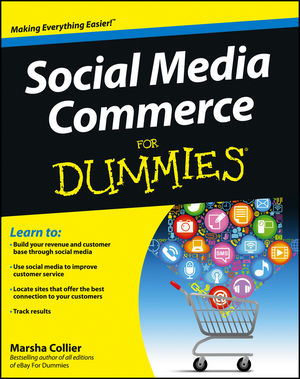 Social Media Commerce For Dummies
ISBN: 978-1-118-29793-3 November 2012 336 Pages
Description
Capture customers and sales with social media commerce
Social media commerce is a booming industry. By using social networks in the context of e-commerce transactions, brands large and small are making their products more available and more convenient for customers. This one-of-a-kind guide introduces you to social media commerce and explains how you can use social media to provide better customer service, collect payments online, and build your customer base. Online marketing expert Marsha Collier helps you determine where you have the best opportunity to reach your market, which sites you should integrate with, and much more.
Your customers are communicating with each other via social media; making purchasing opportunities available on social media sites adds convenience for your customer and opens up new sales opportunities
This step-by-step guide explains social media commerce and shows what you can accomplish
Helps you determine the sites where your business should have a presence
Demonstrates how customers can help promote your brand as they recommend products and services to others on their social networks
Author Marsha Collier is the undisputed expert on eBay and a recognized authority on social media marketing
Social Media Commerce For Dummies helps you offer your customers better service while giving them the opportunity to share information about your product with their social media contacts.
Introduction 1
Part I: Prepping for Social Media Commerce 7
Chapter 1: Social Media Commerce and Your Bottom Line 9
Chapter 2: Competing in the Social Media Realm 25
Chapter 3: Creating a Social Media Policy 47
Part II: Adapting Your Web Presence 53
Chapter 4: Passive Engagement: Creating a Social Persona through
Your Website 55
Chapter 5: Active Engagement: Connecting Directly with Your Customers 75
Chapter 6: Claiming Your Space on Review Sites 89
Chapter 7: Knowing Where to Share Your Content 101
Part III: Casting for and Catching Customers 117
Chapter 8: Finding Your Customer on the Social Web 119
Chapter 9: Seizing the Social Media Conversation 143
Chapter 10: Cashing In: Doing Real Business Online 163
Chapter 11: Building Revenue through Links and Deals 177
Chapter 12: Making a Direct Hit with Mobile 193
Part IV: Supporting Your Social Media
Commerce Efforts  203
Chapter 13: Handling Customer Service without Picking Up the Phone
(Well, Almost) 205
Chapter 14: Monitoring Your Online Reputation 219
Chapter 15: Marketing in a Social Way: New Media Advertising 235
Chapter 16: Improving Productivity with Apps and Widgets 251
Part V: The Par t of Tens 259
Chapter 17: Ten Ways to Build an Online Presence Now 261
Chapter 18: Ten Ways to Get Social Media Feedback 273
Glossary 283
Index 293
Updates
Please check back here for updates.