Social Media and Everyday Politics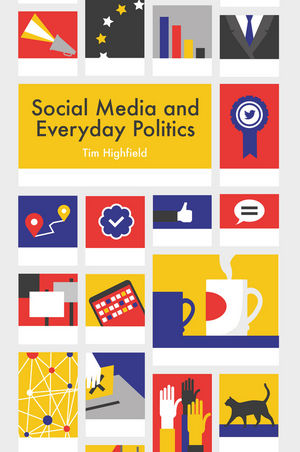 Social Media and Everyday Politics
ISBN: 978-0-745-69138-1 June 2017 Polity 220 Pages
Download Product Flyer
Download Product Flyer
Download Product Flyer is to download PDF in new tab. This is a dummy description. Download Product Flyer is to download PDF in new tab. This is a dummy description. Download Product Flyer is to download PDF in new tab. This is a dummy description. Download Product Flyer is to download PDF in new tab. This is a dummy description.
Description
From selfies and memes to hashtags and parodies, social media are used for mundane and personal expressions of political commentary, engagement, and participation. The coverage of politics reflects the social mediation of everyday life, where individual experiences and thoughts are documented and shared online.

In Social Media and Everyday Politics, Tim Highfield examines political talk as everyday occurrences on Twitter, Facebook, blogs, Tumblr, Instagram, and more. He considers the personal and the political, the serious and the silly, and the everyday within the extraordinary, as politics arises from seemingly banal and irreverent topics. The analysis features international examples and evolving practices, from French blogs to Vines from Australia, via the Arab Spring, Occupy, #jesuischarlie, Eurovision, #blacklivesmatter, Everyday Sexism, and #illridewithyou.

This timely book will be a valuable resource for students and scholars in media and communications, internet studies, and political science, as well as general readers keen to understand our contemporary media and political contexts
Table of contents
Contents
Preface
Acknowledgements
List of Figures
Introduction: Everyday Politics and Social Media
Chapter One: Personal/Political
Chapter Two: Political Rituals of Social Media
Chapter Three: Media Politics
Chapter Four: Breaking News, Scandals, and Crises
Chapter Five: Collective and Connective Action
Chapter Six: Partisan Politics and Politicians on Social Media
Chapter Seven: The Everyday of Elections
Conclusion: The Changing Face of Everyday Social Media and Everyday Politics
Notes
References
Reviews
Politics is personal and the personal is political. As new media platforms enhance our ability to express ourselves and connect with others, everyday politics are performed in public spheres interconnected by social media. Tim Highfield makes this abundantly clear in Social Media and Everyday Politics, a must read volume for those interested in how the language, the practice, and the meaning of political expression evolve in contemporary societies. His approach offers rich theoretical terms, methodological insight, and analytical rigor to our understanding of how social media reorganize political realities.
Zizi Papacharissi, University of Illinois at Chicago
This is an excellent book. It is comprehensive and up-to-date. It is a great introduction to social media in general Ð but especially delivers handsomely on its topic of everyday politics and social media. The range of examples and cases are terrific and well-analysed. I especially like the authorial voice Ñ grounded, funny, lively, sharp.
Gerard Goggin, University of Sydney
Of special interest to sociology, journalism, and political science scholars, the internet studies encompassed in this book bridge the gap between these disciplines by showing the interaction among them.
Choice


"This book is a great introduction to the everday politics of socia media, and the vibrant discussion of important issues makes it worth a read for students and scolars at any level."
Political Studies Review


"It would be difficult for me to imagine a better orienting text for my undergraduate courses on internet culture and politics. It fills an important gap in the existing literature and I suspect will find an eager and engaged audience."
Alexander Halavais, Arizona State University, Cultural Sociology