Social Policy, 2nd Edition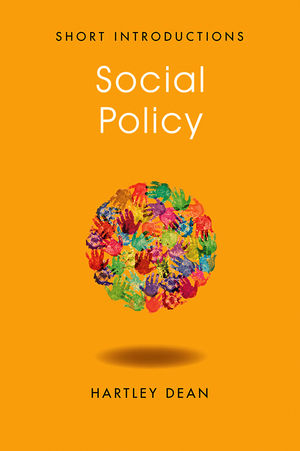 Social Policy, 2nd Edition
ISBN: 978-0-745-65178-1
Jun 2012, Polity
176 pages
Description
How do human societies provide for the wellbeing of their members? How far can we organise the ways in which we care for and about each other? And who should take responsibility for providing the support we all need? These are some of the fundamental questions addressed by social policy today.

In this short introduction, suitable for students at any level, Hartley Dean explains the extraordinary scope and importance of social policy. He explores its foundations and contemporary significance; the principal issues it addresses and their diverse economic, political and sociological dimensions, and concludes by looking at the fundamental challenges facing social policy in an ever changing world.

Introducing social policy as a broadly conceived study of human wellbeing, this fully revised and updated edition examines the ways in which governments and peoples throughout the world attend to, promote, neglect or even undermine the things that make life worth living. These include essential services, such as healthcare and education; the means of livelihood, such as jobs and money; and vital but sometimes intangible things, such as physical and emotional security. Some of these are organised by governments and official bodies. Others are provided by businesses, social groups, community organizations, neighbours and families. Trying to understand all these elements, which together constitute human wellbeing, is the stuff of social policy.

List of Figures and Tables.
List of Boxes.
Preface.
Acknowledgements.
1 What is Social Policy?
2 Where did it Come From?
3 Why on Earth does it Matter?
4 What does Human Wellbeing Entail?
5 Who Gets What?
6 Who's in Control?
7 What's the Trouble with Human Society?
8 Can Social Policy Solve Social Problems?
9 How are the Times a-Changing?
10 Where is Social Policy Going?
References.
Index.
"A good overview of the field for any interested reader ... ideal for an undergraduate course."
LSE Politics Blog
"This is a most useful book, and it is good to have an updated edition."
Citizen's Income Newsletter
"Hartley Dean's introduction breathes new life into the study of social policy. Lively and entertaining, the book demonstrates the importance of social policy in tackling big issues affecting our lives today: health, money and relationships; poverty, the environment and crime. It provides a welcome reminder of what social policy offers for human wellbeing in the twenty-first century and should enthuse all students approaching the subject for the first time."
Polly Toynbee
"I am pleased to endorse this second edition of Hartley Dean's introduction to social policy. One of the most interesting aspects of that study is that it is constantly changing; and the book has been updated to reflect recent developments. Nevertheless, the strengths of the original book remain; in particular Dean's passion for the subject and the enthusiasm that he inspires in his readers."
Peter Alcock, University of Birmingham
"In making the case for social policy as academic discipline and response to core issues, this book offers new insights. The international scope of the book is particularly valuable, as is its focus on recent developments at home and abroad. The reader will be instructed and impressed by this compelling assessment of the power and relevance of social policy in these turbulent times."
Mary Daly, Queen's University Belfast