Social Policy and the Conservative Agenda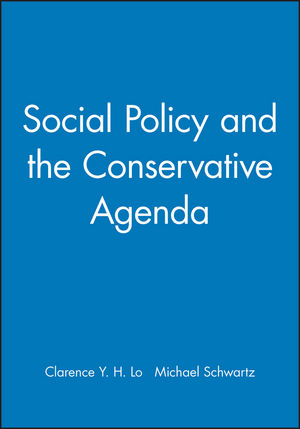 Social Policy and the Conservative Agenda
ISBN: 978-1-577-18119-4
Mar 1998, Wiley-Blackwell
336 pages
Description
A comprehensive collection of original essays by leading experts on social and econmic policy including Frances Fox Piven, Harvey Molotch, Jill Quadagno, James Petras, and Judith Stacey. This volume challenges the conservative notion that the fundamental problem plaguing America is dependancy on government and further cuts only lead to a cycle of recision.
Newly published articles by the leading experts in social and economic policy
Explores conservative social policy of the late twentieth century
Contains articles on welfare reform, health care, military spending and economic policy
Introduction: What Went Right?.
Why the Clinton Administration Did Not Alter The Conservative Trajectory in Federal Policy: Michael Schwartz (SUNY-Stony Brook).
Part I: Welfare, Social Security, and the State of Austerity:.
1. Welfare and the Transformation of American Politics: Frances Fox Piven (CUNY-Graduate Center).
2. The Democratic Party and the Politics of Welfare Reform: Ron Walters (University of Maryland).
3. Urban America: Crushed in the Growth Machine: Harvey Molotch (University of California, Santa Barbara).
4. Rhetoric, Recision, and Reaction: The Development of Homelessness Policy: Cynthia Bogard (Hofstra), and J. Jeff McConnell (SUNY-Stony Brook).
5. Social Security Policy and the Entitlement Debate: The New American Exceptionalism: Jill Quadagno (Florida State University).
Part II: Welfare-Warfare Spending, Technology, and the Global Economy:.
6. Wealth and Poverty in the National Economy: The Domestic Foundations of Clinton's Global Policy: Morris Morley (Macquarie University) and James Petras (SUNY - Binghampton).
7. America's Military Industrial Make-Over: Ann Markusen (Council on Foreign Relations).
8. Big Missions and Big Business: Military and Corporate Dominance of Federal Science Policy: Gregory Hooks (Washington State) and Gregory McLauchlan (University of Oregon).
9. Active-competitive Industrial Policy: From Elite Project to Logics of Action: J. Kenneth Benson and Nick Paretsky (University of Missouri).
10. Where Are All the Democrats?The Limits of Economic Policy Reform: Patrick Akard (Skidmore College).
11. Failure of Health-Care Reform: The Role of Big Business in Policy Formation: Beth Mintz (University of Vermont).
Part III: Acting Out Conservative Ideology:.
12. The Malignant Masses on CNN: Media Use of Public Opinion Polls to Fabricate the "Conservative Majority" against Health-Care Reform: Clarence Y. H. Lo (University of Missouri).
13. Popular Consensus or Political Extortion?Making Soldiers the Means and Ends of U. S. Military Deployments: Jerry Lee Lembcke (Holy Cross College).
14. Theorizing and Politicizing Choice in the 1996 election: Zillah Eisenstein (Ithica College).
15. The Right Family Values: Judith Stacey (University of Southern California).
16. Contradictions in the Conservative Agenda: Welfare Reform and Reproductive Politics on a Collision Course: Carole Joffe (University of California - Davis).
Conclusion.
Business Action, Conservative Acting, and Institutional Enactment: Economic Constraints on Social Policy: Clarence Y. H. Lo (University of Missouri).
List of Contributors.
Index.
"This is an impressive volume. It is filled with original insights on recent federal policies on domestic issues. I can think of no work that sheds more light on why the conservative political movement was able to seep through the Clinton administration and influence its economic and social policies."
William Julius Wilson, Malcolm Wiener Professor of Social Policy, John F. Kennedy School of Government, Harvard University
"Not just during the Reagan and Bush presidencies, but under Clinton's, social policy has veered rightwards. This excellent collection of smart, sassy, analytically-grounded essays by a first-rate group of scholars offers detailed policy analyses--spanning issues of race, the welfare state, sexuality, and the military, among other topics--and provides broad, provocative overviews of the politics of our time. It is certain to provoke fresh considerations and challenge settled views." Ira I Katznelson, Ruggles Professor of Political Science and History, Columbia University
Newly published articles by the leading experts in social and economic policy
Explores conservative social policy of the late twentieth century
Contains articles on welfare reform, health care, military spending and economic policy