Social Policy for Nurses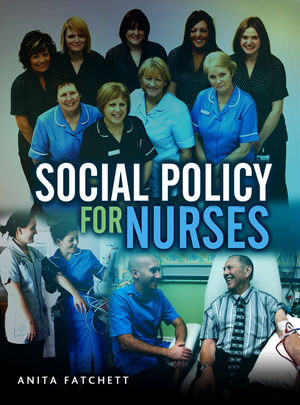 Social Policy for Nurses
ISBN: 978-0-745-64919-1 April 2012 Polity 320 Pages
Description
Important changes within the NHS and nursing have taken place over the last fifteen years. The healthcare environment has been transformed and the picture of professional nursing redrawn and sharpened. But how do these changes relate to practising nurses and student nurses at the beginning of their professional practice and what effect will they have on the everyday lives of nurses and their patients?
Social Policy for Nurses
aims to answer these essential questions, providing the ideal introduction to health policy for nurses at all stages of their careers. Written in an engaging and accessible style, the book provides a comprehensive discussion of the current policy imperatives facing nurses across the UK. The text offers a clear overview of the nature of policy and policy-making, reminding nurses of their ability, and responsibility, to become involved. The importance of learning lessons from the past, both good and bad, is strongly emphasised and the book has helpful chapter summaries, case studies and learning activities to help readers engage with the policies discussed. The themes explored include:
Working in partnership and empowering the users
Building a healthier nation
Professionalism
Information technology

The future for the profession and for a high-quality, collectively provided health service is now very much in the hands of all nurses. This book sets out to inspire the current and future generation of nurses to reflect fully on the influence that health policy has on their profession and daily practice, and on health service provision more generally.
Table of contents
Preface
List of Figures, Boxes and Tables
1. Introduction
2. Policy and Nursing
3. Reforming the National Health Service: 1948 - 2010
4. Equity and Excellence: Liberating the NHS
5. Working in Partnership and the Policy Agenda
6. Policy and Technology: A Developing Relationship in the NHS
7. Empowering the Patients and the Public
8. Health Policy: Building a Healthier Nation and Reducing Health Inequalities
9. Working with Diversity and the Policy Agenda
10. Supporting People with Long-Term Conditions: A Policy Perspective
11. Policy and Nurse Professionalism Today: A Threat or a Promise?
12. Learning from the Past, Looking to the Future
References
Index
Reviews
"Anita Fatchett has gained a strong reputation for knowledge and excellence in the teaching of nurses. This clear and well-written book further justifies her reputation and should be the definitive text for today's nurses working in a transformed modern professional environment."
Fabian Hamilton, Labour MP for Leeds North East
"As nursing and the NHS go through turbulent times, this book gives us the social policy context to remind us where we have come from, and assess what the future might hold."
James Buchan, Queen Mary University
"This book is highly contemporary and includes commentary on the latest in a series of dizzying changes to the NHS. Fatchett has the gift of summarising the key points of nearly 60 years of policy and drawing out their significance for nursing and nurses."
Michael Traynor, Middlesex University
Features
This new textbook offers a highly accessible, applied introduction to social policy, specifically tailored to the needs of nursing students of nursing
Provides an essential overview of the changing shape of the NHS and the broader healthcare environment in the UK, helping nurses to situate themselves in a rapidly changing field
Clarifies and elucidates the central concepts of sociology and social policy, avoiding abstraction and remaining firmly embedded in the everyday concerns of practicing nurses
Includes a rich and comprehensive blend of exercises, case studies and illustrations, with further reading sections