Social Psychology, 3rd Edition, International Student Edition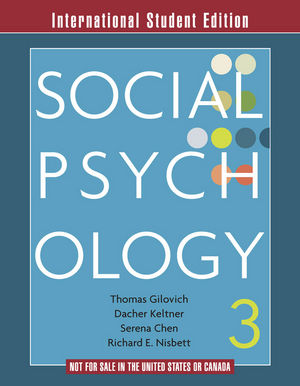 Social Psychology, 3rd Edition, International Student Edition
ISBN: 978-0-393-92081-9
*Norton agency titles
736 pages
Product not available for purchase
Description
A captivating introduction to the research, applications, and excitement of today's social psychology.

Written by four active researchers who represent the breadth and depth of the field, this text encourages students to become scientific thinkers, apply what they learn, and have fun in the hottest field in psychology. Social Psychology, Third Edition, delivers both the inspiration and the confidence students need to understand the importance and relevance of social psychology. An enhanced eBook that is free with the text offers embedded interactive study exercises and online labs that engage students in the process of scientific inquiry.
1. An Invitation to Social Psychology
2. The Methods of Social Psychology
3. The Social Self
4. Social Cognition: Thinking about People
5. Social Perception: Understanding the Behavior of Others
6. Emotion
7. Attitudes, Behavior, and Rationalization
8. Persuasion
9. Social Influence
10. Relationships and Attraction
11. Stereotyping, Prejudice, and Discrimination
12. Groups
13. Aggression 14. Altruism and Cooperation
Application Module #1: Social Psychology and Health
Application Module #2: Social Psychology and Personal Finance
Application Module #3: Social Psychology and Education
Application Module #4: Social Psychology and the Law
A BALANCED AND CONTEMPORARY PERSPECTIVE
Social Psychology, conceived and written by a diverse author team representing the breadth and depth of social psychology, gives a nuanced and balanced perspective throughout. Combined, the four authors have introduced social psychology to thousands of students, and all four are active researchers. Written from the ground up in the 21st century, the text makes the material more interesting and relevant for today's diverse students – and ensures that they are introduced to the most current state of the field. While clearly presenting the core topics, the text weaves in contemporary coverage of topics like culture, social neuroscience, positive psychology, and evolution.
TEXT, VISUAL PROGRAM, AND MEDIA THAT WORK TOGETHER TO TEACH STUDENTS TO BE SCIENTIFIC THINKERS
In every chapter, clear writing is punctuated with exciting research stories to give students a flavor of the science behind the findings. Annotated data graphics in every chapter help students read graphs and understand the critical findings being shown. Scientific Method boxes clearly and consistently lead students through key experiments to help them understand the methods. You Be the Subject boxes encourage students to take the role of research participant. An enhanced eBook offers interactive study exercises that provide students targeted feedback for helping them master course concepts as well as increase their critical thinking skills. Embedded ZAPS labs allow students to experience core course concepts firsthand.
APPLIES THEORIES AND CONCEPTS TO STUDENTS' EVERYDAY LIVES
Social Psychology shows students what they can "do" with the information they learn. Thought-provoking applications are woven throughout the text and the media package. "Focus On" boxes in each chapter highlight applications of social psychological findings to real-life situations. "Social Psychology in the News" video clips show students how social psychology research influences the real world. And four applications modules conclude the text: Social Psychology and the Law, Social Psychology and Health, Social Psychology and Personal Finance, and Social Psychology and Education.
ROBUST RESOURCES FOR INSTRUCTORS
A new Interactive Instructors Guide puts scores of teaching ideas and activities (including YouTube clips that illustrate social psychology concepts) right at the fingertips of instructors looking for fresh ideas to bring to lecture. "Beyond the Textbook" PowerPoints give instructors access to the authors' lecture slides with demonstrations, alternative research examples, and applications. And Clicker Question PowerPoints are available for instructors using clickers in the classroom to engage students. 60 "Social Psychology in the News" video clips (two to ten minutes each) show students how social psychology research influences the real world.
FREE ENHANCED EBOOK WITH EVERY NEW COPY OF THE TEXT
Free with all new copies of the book, the enhanced eBook for Social Psychology, Third Edition, offers interactive study exercises with answer-specific feedback that is designed to help students build critical thinking skills while gaining the confidence to apply, analyze, and evaluate new concepts. In addition, the eBook offers NEW online psychology labs (ZAPS) that let students interact with core social psychology concepts firsthand.