Social Psychology and Discourse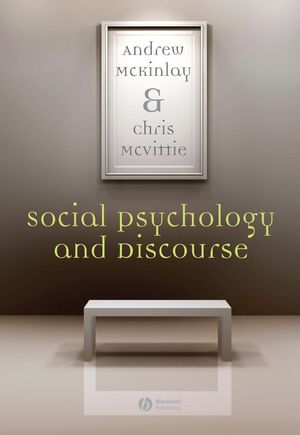 Social Psychology and Discourse
ISBN: 978-1-405-14658-6 August 2008 Wiley-Blackwell 328 Pages
Download Product Flyer
Download Product Flyer
Download Product Flyer is to download PDF in new tab. This is a dummy description. Download Product Flyer is to download PDF in new tab. This is a dummy description. Download Product Flyer is to download PDF in new tab. This is a dummy description. Download Product Flyer is to download PDF in new tab. This is a dummy description.
Description
A unique and creative textbook that introduces the 'discursive turn' to a new generation of students,
Social Psychology and Discourse
summarizes and evaluates the current state-of-the-art in social psychology. Using the explanatory framework found in typical texts, it provides unparallel coverage on Discourse Analytic Psychology in a format that is immediately familiar to undergraduate readers.


A timely overview of the breadth and depth of discourse research, ideal for undergraduates and also a great resource for postgraduate research students embarking on a discursive project

No other text offers the same range of coverage - from the core topics of social cognition, attitudes, prejudice and relationships to lesser known areas such as small group phenomena

Includes a host of student-friendly features such as chapter outlines, key terms, a glossary, activity questions, classic studies and further reading
Table of contents
Preface.
1. Introduction.
What is social psychology?.
The nature of social psychology.
Related disciplines.
Social psychology as a science.
Social psychology: Its methods and data.
Qualitative data.
What is discourse?.
The nature of discourse.
Conversation analysis (CA).
Discourse analysis (DA).
Critical discourse analysis (CDA).
Foucauldian discourse analysis (FDA).
Discursive psychology (DP).
Rhetorical psychology.
Narrative analysis.
Other forms of qualitative study.
A note on ethics.
About this book.
Appendix: A note on transcription.
2. Self and Identity.
Identities in context.
Conversational identities.
Identities in culture.
National identities.
Nations and time.
Nations and place.
Other community identities.
Social groups.
Gendered identities.
Masculine identities.
Feminine identities.
Ethnic groups.
Virtual identities.
Resisting identities.
Selves in action.
3. Groups.
The impact of groups.
Groups and social representations.
Groups, self and others.
Group cohesion.
Group structure.
Homogeneity and heterogeneity.
Roles within the group.
Group function.
Group norms.
Group tasks.
4. Attraction and Relationships.
Attraction.
Achieving attraction.
Sexual attraction and desire.
Partnership and marriage.
Marriage.
Partnerships.
Being single.
Parenthood.
Parenting in families.
Parenting and society.
Family relationships.
Collaborative competence.
Family dynamics.
Caring in families.
Peers and friends.
Collaboration among peers.
Teasing and exclusion.
Troubles and breaking up.
Neighbour disputes.
Family and relationship troubles.
5. Social Cognition.
Knowledge of others and mental states.
Knowing and mental models.
Not knowing and the sequential structure of conversation.
Knowing and not knowing: Beyond cognitive states.
Social memory.
Impression management.
Attributions.
Categorisation.
6. Attitudes and Persuasion.
Attitudes.
Attitude and control.
Constructing attitudes and evaluative practices.
Persuasion.
Persuasion and ideology.
Mundane persuasion in everyday talk.
7. Prejudice.
Prejudice and discourse.
Race.
Constructing the 'other'.
Managing the self.
Racist talk in context.
What the papers say.
Sex.
Sexism.
Heterosexism.
8. Dispute and Aggression.
Disputes in talk.
Agreeing to disagree: The usefulness of disagreement.
Disagreement and dispute: Power and participant's orientations.
Accounting for aggression.
Aggressors' accounts.
Others' accounts.
Disguising aggression.
Denials.
Making aggression invisible.
9. Social Psychology, Law and Order.
Police investigations.
Police interviews.
Police calls.
Lawyers in the Courtroom.
The role of the lawyer in cross examination.
The role of the lawyer in direct examination.
Witnesses in the courtroom.
Witness testimony.
The 'expert' witness.
The role of the judge.
Treatment of offenders.
10. Social Psychology and Health.
What is health?.
The ideology of health.
Being ill.
Health and gender.
Professional expertise.
Coping and support.
Coping as an individual.
Support groups.
Professional / patient encounters.
Assessments.
Formulations.
Diagnoses.
Health behaviours and change.
Health and individual behaviour.
Health in the community.
11. Social Psychology and Organisations.
Talk and organizations.
Institutional talk.
Organisations and culture.
Behaviour at work.
Working relationships.
Working activities.
Leadership and decision-making.
Employment and non-employment.
Career choices.
Employment difficulties.
Organisations and society.
Organisations and change.
Dealing with clients / customers.
Learning about organizations.
12. Debates Within the Discursive Tradition.
The 'external context' debate.
Conversation analysis.
Critical discourse analysis.
External contexts.
The 'membership categorization analysis' debate.
Membership categorization analysis and 'sequential' conversation analysis.
Membership categorization analysis and warranting claims.
The 'social constructionism' debate.
Covert realism.
Disappearance of the person.
Reflexivity.
13. Social Psychology in the 21st Century.
Arguments for research independence.
Philosophical differences between discursive and experimental research.
Methodological differences between discursive and experimental research.
Arguments for research integration.
Rethinking philosophical differences.
Rethinking methodological differences.
The future of social psychology.
Glossary.
References.
Author Index.
Subject Index
Reviews
"There can be no doubt that it will resonate deeply with social psychologists (students and scholars alike). More importantly perhaps, it will serve linguists, literary scholars and sociologists as a convenient springboard for future interdisciplinary studies on discourse."  (Discourse and Communication, 1 November 2012)

"This unique new introduction to social psychology adopts the explanatory framework typical of experimental social psychology texts and, using a completely original approach, applies this framework to discourse analysis in psychology. Drawing on a range of examples from international research, Andrew McKinlay and Chris McVittie provide thorough yet accessible coverage of theory, methodology and current debates." (
The Psychologist
, August 2008)
"McKinlay and McVittie have neatly integrated many social psychology topics with discourse without reducing discourse to a simplistic, flavourless methodology. It is thus an impressive achievement that they have been able to address this complexity in a clear and engaging manner… As a teaching text, the book promises to be an extremely valuable addition to any social psychology course." (Social Psychological Review, March 2009) 
"The text is user-friendly: since students may not be familiar with the terminology of discourse, the authors have taken special care to list key terms at the beginning of each chapter and also to define them on the page where they first occur. The book is rich … .The authors make a strong case for the importance of discourse, and even some broadminded adherents of quantitative social psychology might be persuaded that it offers a valuable complement to 'tough-minded' social psychology. The authors have done an admirable job in presenting a massive number of studies in a clear and often lively manner. They have also demonstrated the existence of an impressive amount of discursive work done on a wide range of topics." (Metapsychology, December 2008)
"This is an extraordinarily detailed introduction with by far the richest, and most up to date review of discourse research relevant for social psychologists. Although dealing with issues that are of particular interest to social psychologists, such as identity, groups or attitudes, the book provides a detailed review of a vast number of studies in discourse analysis, and hence is also relevant for students in discourse analysis, linguistics, cognitive psychology and the social sciences. This book offers both the student newcomer to the field, as well as the experienced scholar in other directions of social psychology, a persuasive set of arguments and examples in favor of a discourse analytical basis for social psychology, and a new view of empirical evidence." Teun A. van Dijk, Universitat Pompeu Fabra, Spain.
"This is an outstandingly clear introduction and overview of how discursive research can contribute to social psychology. In contrast to other texts, the book is organized around central social psychological topics. This, together with the international perspective, the clear structure of each chapter, the many examples, and the descriptions of classic studies, makes the text highly accessible and attractive to a broad audience. It is one of the best written books on discourse and social psychology and ideal for students, teachers and researchers. I would highly recommend the book as an invaluable resource to anyone who is interested in what discursive research has to offer to social psychology and to our understanding of the social world." Maykel Verkuyten, Utrecht University, The Netherlands.
"This is an impressive achievement: an overview of psychological approaches to discourse analysis and discursive approaches to social psychological phenomena that is accessible and even-handed. In their scholarly and elegantly written text, McKinlay and McVittie detail the positive contribution that discursive research has made to the core topics of social psychology, including self and identity, group processes, attraction and relationships, attitudes and prejudice. In so doing, they re-position discursive approaches from the critical margins into the very mainstream of social psychology. This superb text is positively brimming with useful information, and should be recommended reading for every undergraduate course in social psychology." Susan Condor, Lancaster University, UK.
"This is an excellent textbook. It provides an authoritative introduction to basic strands of discourse research, including discourse analysis, conversation analysis, discursive psychology, membership categorization analysis and critical discourse analysis that is both comprehensive and unpretentious. The sometimes complex tensions between perspectives are usefully highlighted without bogging the text down in unnecessary detail and there is an interesting chapter overviewing some of the key debates that surround discourse work. The books is organized in a way that brings a fresh perspective to a series of fundamental notions within social psychology such as identities, groups and relationships as well as offering a new approach to applied topics such as aggression, health, and legal issues. It comes with useful exercises and boxes that summarize key findings and overview classic studies. Its coverage of a complex interdisciplinary field is commendable and, as a textbook, it stands as a complete alternative perspective on social psychology that covers the main issues but in a novel interaction-focused way. Overall, it is clear, engaging and up to date; I will use it in my teaching." Jonathan Potter, Loughborough Unversity, UK
Features


A unique and creative introduction to social psychology

A timely overview of the breadth and depth of discourse research

No other text offers the same range of coverage – from the core topics of social cognition, attitudes, prejudice and relationships to lesser known areas such as small group phenomena

An excellent resource for postgraduate research students embarking on a discursive project

Includes a host of student-friendly features such as chapter outlines, key terms, a glossary, activity questions, classic studies and further reading