Social Psychology of Punishment of Crime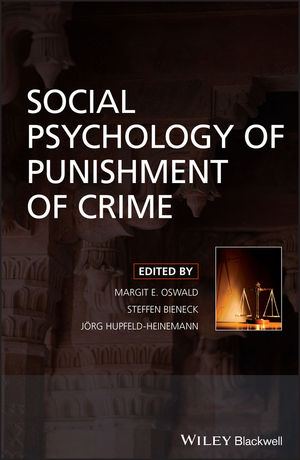 Social Psychology of Punishment of Crime
ISBN: 978-1-119-16119-6
Jun 2015, Wiley-Blackwell
296 pages
Description
In recent years, research interest has increased both in the needs of punishment by the public and in the psychological processes underlying decisions on sentencing. This comprehensive look at the social psychology of punishment focuses on recent advances, and presents new findings based on the authors' own empirical research. Chapters explore the application of social psychology and social cognitive theories to decision making in the context of punishments by judges and the punitiveness of laymen. The book also highlights the different legal systems in the UK, US and Europe, discussing how attitudes to punishment can change in the context of cultural and social development.
Contributors.
Foreword (Neil Vidmar).
Introduction (Margit E. Oswald, Steffen Bieneck and Jörg Hupfeld-Heinemann).
PART I: Attitudes towards Punishment and Legal Sanctions in a Changing Society.
1 The diversity of nations and legal systems – contrasting the Dutch and the Americans (Peter J. van Koppen).
2 New approaches to justice in the light of virtues and problems of the penal system (Tom R. Tyler).
3 Psychological perspectives on the place of restorative justice in criminal justice systems (Dena M. Gromet).
4 Punitive public attitudes: a threat to the legitimacy of the criminal justice system (Jan W. de Keijser and Henk Elffers)?
5 Punishment attitudes: their social and psychological bases (John Duckitt).
6 Criminal society and criminal immigrants: a social construction of reality by mass media (Michael Windzio and Matthias Kleimann)?
7 Public opinion and the death penalty (James D. Unnever and Francis T. Cullen).
PART II: Moral Reasoning and Reactions to Crime.
8 Justice and revenge (Mario Gollwitzer).
9 Emotions and legal judgements: normative issues and empirical findings (Ute Gabriel).
10 A two-process model of punishment (Margit E. Oswald and Ingrid Stucki).
11 Punitive damages: a vehicle for punishment in civil cases (Brian H. Bornstein, Timothy R. Robicheaux and Sarah Thimsen).
12 Offenders' social categorization: ingroup bias or black sheep effect (Jan-Willem van Prooijen)?
13 Measuring attitudes to sentencing and sentencing goals (Loretta J. Stalans).
14 How adequate is the vignette technique as a research tool for psycho-legal research (Steffen Bieneck)?
PART III: Impact of Heuristics and Biases on Decision Making in the Context of Crime.
15 Models of decision making on guilt and sanctions (Jörg Hupfeld-Heinemann and Bettina von Helversen).
16 Heuristic strategies and persistent biases in sentencing decisions (Birte Englich).
17 Biased memory, biased verdicts: memory effects in juror judgments (Kristi A. Costabile).
18 A social-cognitive perspective on attrition rates in sexual assault cases (Barbara Krahé and Anja Berger).
19 How knowledge about the defendant's previous convictions influences judgments of guilt (Margit E. Oswald).
20 Disparities in sentencing decisions (Siegfried L. Sporer and Jane Goodman-Delahunty).
PART IV: Consequences of Sentencing.
21 The consequences of legal punishment (Stefan Suhling and Werner Greve).
22 The effects of legal involvement on crime victims' psychological adjustment (Ulrich Orth).
Index.