Social Psychology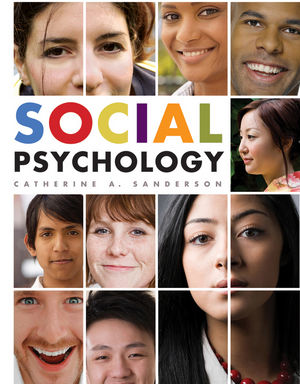 Description
Catherine Sanderson's Social Psychology will help open students minds to a world beyond their own experience so that they will better understand themselves and others. Sanderson's uniquely powerful program of learning resources was built to support you in moving students from passive observers to active course participants. Go further in applying social psychology to everyday life. Sanderson includes application boxes on law, media, environment, business, health and education in every chapter right as the relevant material is introduced, rather than at the end of the book. This allows students to make an immediate connection between the concept and the relevant application and provides a streamlined 15 chapter organization that helps you cover more of the material in a term.
Table of contents
Chapter 1: Introduction.
Chapter 2: Research Methods.
Chapter 3: Self-Perception and Presentation.
Chapter 4: Social Perception.
Chapter 5: Social Cognition.
Chapter 6: Attitude Formation and Change.
Chapter 7: Persuasion.
Chapter 8: Social Influence: Norms, Conformity, Compliance, and Obedience.
Chapter 9: Group Influence: The Impact of Group Processes.
Chapter 10: Stereotypes, Prejudice, and Discrimination.
Chapter 11: Aggression.
Chapter 12: Interpersonal Attraction and Close Relationships.
Chapter 13: Altruism and Prosocial Behavior.
What's New
The strongest coverage of cross-cultural material in any social psychology book.