Social Psychology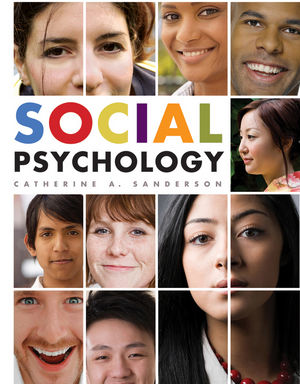 Description
Catherine Sanderson's Social Psychology will help open students minds to a world beyond their own experience so that they will better understand themselves and others. Sanderson's uniquely powerful program of learning resources was built to support you in moving students from passive observers to active course participants. Go further in applying social psychology to everyday life. Sanderson includes application boxes on law, media, environment, business, health and education in every chapter right as the relevant material is introduced, rather than at the end of the book. This allows students to make an immediate connection between the concept and the relevant application and provides a streamlined 15 chapter organization that helps you cover more of the material in a term.
Chapter 1: Introduction.
Chapter 2: Research Methods.
Chapter 3: Self-Perception and Presentation.
Chapter 4: Social Perception.
Chapter 5: Social Cognition.
Chapter 6: Attitude Formation and Change.
Chapter 7: Persuasion.
Chapter 8: Social Influence: Norms, Conformity, Compliance, and Obedience.
Chapter 9: Group Influence: The Impact of Group Processes.
Chapter 10: Stereotypes, Prejudice, and Discrimination.
Chapter 11: Aggression.
Chapter 12: Interpersonal Attraction and Close Relationships.
Chapter 13: Altruism and Prosocial Behavior.
This book includes the strongest coverage of cross-cultural material in any social psychology book. Each chapter concludes with a section called "How Does Culture Influence...?" These sections review chapter topics with a focus on how the findings and theories that have been presented might in fact differ in various cultures. Through this consistent approach, students will appreciate the role of culture in social behavior.
Questioning the Research queries in each chapter prompt students to actively question the results and implications of particular research studies. A separate chapter on research methods describes the strengths and weaknesses of different methods, as well as strategies for increasing validity of research studies.
Each chapter includes integrated applications of how social psychology connects to various real-world topics, such as Health, Law, Environment, Business, Education, and Media. These connection boxes apply topics in the text to these broader themes. All social psychology textbooks include applications; this book integrates these applications directly with the topics instead of putting them in chapters at the end.
Students can respond to Rate Yourself quizzes to test their personal scores on measures that are described in the text. Several of these occur in each chapter as a way to encourage the reader to make a connection to the topic and to increase awareness of their own thoughts and perceptions. Finally, each chapter ends with a series of Take Action queries that directly ask students to apply social psychology to their own lives.
Research-based Graphs are used throughout the text and are annotated to help students interpret the key findings of the study being presented.