Social Semiotics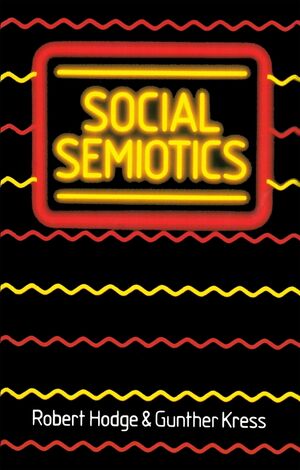 Social Semiotics
ISBN: 978-0-745-60373-5
Jan 1991, Polity
296 pages
Description
Social Semiotics is a major new textbook in communication and cultural studies. It offers a comprehensive and original approach to the study of the ways in which meaning is constituted in social life.

Hodge and Kress begin from the assumption that signs and messages - the subject matter of semiotics - must always be situated within the context of social relations and processes. They then show what is involved in analysing different kinds of messages, from literary texts, TV programmes and billboards to social interactions in the family and the school. While presenting a judicious assessment of different perspectives, Hodge and Kress also develop their own distinctive and highly fruitful approach, demonstrating how semiotics can be integrated with the social analysis of power and ideology, space and time, and gender and class.

Social Semiotics is richly illustrated with examples and written in a clear style which does not presuppose prior knowledge of the field. It will become a key textbook for courses in communications, media and cultural studies and will be of general interest to students of sociology, literature and linguistics.
Preface.
1. Social Semiotics.
2. The Founding Fathers Revisited.
3. Context as Meaning:.
The Semiosic Dimension.
4. Styles as Ideology.
5. Social Definitions of the Real.
6. Transformation and Times.
7. Transformation of Love and Power:.
The Social Meaning of Narrative.
8. Entering Semiosis:.
Training Subjects for Culture.
Appendix.
Bibliography.
References.satisfactoralty
*Written as a textbook for students in communication and cultural studies.
*Rich with e xamples and illustrations.
* Presents a comprehensive and original theoretical approach.
*The authors are well-known and this book builds upon their previous and highly successful works.