Social Skills Activities for Secondary Students with Special Needs, 2nd Edition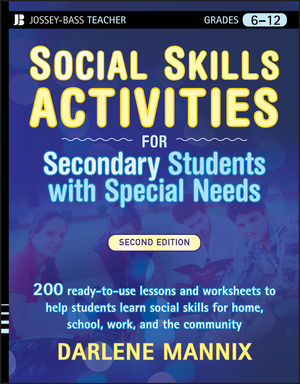 Social Skills Activities for Secondary Students with Special Needs, 2nd Edition
ISBN: 978-0-470-25936-8
Feb 2009, Jossey-Bass
368 pages
Description
A flexible, ready-to-use activities program to help special students in grades 6-12
The updated new edition of this valuable resource offers an exciting collection of 200 ready-to-use worksheets to help adolescents build the social skills they need to interact effectively with others and learn how to apply these skills to various real-life settings, situations, and problems. The book provides 20 complete teaching units focusing on 20 basic social skills, such as being a good listener, "reading" other people, and using common sense.
Buy Both and Save 25%!
Original Price:$65.90
Purchased together:$49.43
save $16.47
Cannot be combined with any other offers.
About This Book v
About the Author v
Preface xv

Part One: Learning Basic Social Skills 1

Chapter 1 Skills to Make a Good Impression 3
Skill 1: Making a First Impression 6
Instructor Pages 6
Worksheet 1: What Is a Good Impression? 7
Worksheet 2: Your Appearance 8
Worksheet 3: Your Attitude 10
Worksheet 4: Getting Prepared 11
Worksheet 5: Asking Appropriate Questions 12
Skill 2: Thinking About My Behavior 14
Instructor Pages 14
Worksheet 6: Picked out of a Crowd 16
Worksheet 7: Ways to Blend In 18
Worksheet 8: Unusual Behaviors 19
Worksheet 9: Behaviors That You Can't Help 20
Worksheet 10: Neutral Behavior 21
Skill 3: Getting Rid of Annoying Tendencies 22
Instructor Pages 22
Worksheet 11: Invading Personal Space 23
Worksheet 12: Interrupting 25
Worksheet 13: Repeating Yourself 27
Worksheet 14: Bodily Noises 28
Worksheet 15: Being Bossy 29
Skill 4: Having a Pleasant Voice and Breath 30
Instructor Pages 30
Worksheet 16: Voice Volume 32
Worksheet 17: Voice Tone 33
Worksheet 18: Using Appropriate Language 35
Worksheet 19: Just Answer the Question! 36
Worksheet 20: Bad Breath 38
Skill 5: Being a Good Listener 39
Instructor Pages 39
Worksheet 21: Identifying a Good Listener 41
Worksheet 22: How to Be a Good Listener 43
Worksheet 23: Important Listening Situations 45
Worksheet 24: What Problems Do You See? 46
Worksheet 25: Skit Revisited: Identifying the Listening Skills 48
Skill 6: Sharpening My Communication Skills 50
Instructor Pages 50
Worksheet 26: What Is Communication? 52
Worksheet 27: Communication Through Behavior 53
Worksheet 28: Communication Through Expressions 54
Worksheet 29: Messages 55
Worksheet 30: Practice Your Communication Skills 56
Skill 7: Sizing Up My Reputation 57
Instructor Pages 57
Worksheet 31: What Others Say About You 59
Worksheet 32: Developing a Reputation 60
Worksheet 33: Misjudging Others 62
Worksheet 34: What Kind of Reputation Do You Want? 64
Worksheet 35: Changing Your Reputation 65

Chapter 2 Skills for Self-Improvement 67
Skill 8: Having a Good Sense of Humor 71
Instructor Pages 71
Worksheet 36: Benefits of a Sense of Humor 72
Worksheet 37: Creating Humor Appropriately 73
Worksheet 38: Easing Tension with Humor 74
Worksheet 39: Laughing WITH, not Laughing AT 75
Worksheet 40: Using Humor to Include Others 77
Skill 9: Expressing Myself Appropriately 78
Instructor Pages 78
Worksheet 41: Expressing Myself with Words 80
Worksheet 42: Waiting Before Responding 82
Worksheet 43: Avoiding Getting Upset 84
Worksheet 44: Public vs. Private Conversations 85
Worksheet 45: Communicating via E-Mail 86
Skill 10: Viewing Things Realistically 88
Instructor Pages 88
Worksheet 46: Making Realistic Changes 90
Worksheet 47: Improbable or Impossible? 91
Worksheet 48: Making Changes for the Better: Habits and Friends 93
Worksheet 49: Making Changes for the Better: Attitudes and Actions 95
Worksheet 50: It Could Happen . . . 97
Skill 11: Standing Up for Myself 99
Instructor Pages 99
Worksheet 51: That's Not Right! 101
Worksheet 52: What Do I Believe? 103
Worksheet 53: Why Do I Think That Way? 104
Worksheet 54: Beliefs and Behavior 105
Worksheet 55: What's the Problem? 107
Skill 12: Making Good Decisions 108
Instructor Pages 108
Worksheet 56: Questions to Ask Yourself 110
Worksheet 57: A Decision-Making Chart 112
Worksheet 58: What Decision Need to Be Made? 113
Worksheet 59: When You Need More Information 115
Worksheet 60: Head vs. Heart Decisions 117
Skill 13: Controlling My Emotions 119
Instructor Pages 119
Worksheet 61: Why Should We Control Our Emotions? 120
Worksheet 62: First Reaction 122
Worksheet 63: What Triggers Your Emotions? 124
Worksheet 64: Controlling What You Show 126
Worksheet 65: Alternative Reactions 127

Skill 14: Making Good Friends 128

Instructor Pages 128

Worksheet 66: Is This a Good Friend? 130

Worksheet 67: Ways to Make Friends 131

Worksheet 68: Are You a Good Friend? 132

Worksheet 69: Friends Affect Us 133

Worksheet 70: Why We Want Friends 135

Skill 15: Using Common Sense 137

Instructor Pages 137

Worksheet 71: What's Common About Common Sense? 139

Worksheet 72: Looking for Clues 140

Worksheet 73: Thinking Harder 141

Worksheet 74: Thinking Smarter 143

Worksheet 75: Using Your Common Sense 145

Skill 16: Having a Good Work Ethic 146

Instructor Pages 146

Worksheet 76: Understanding the Job 147

Worksheet 77: Staying on Task 148

Worksheet 78: Knowing When to Ask for Help 149

Worksheet 79: Making a Quick Decision 151

Worksheet 80: Job Completion 153

Chapter 3 Skills for Being Around Others 155
Skill 17: "Reading" Other People 159
Instructor Pages 159
Worksheet 81: A New Kind of Reading 161
Worksheet 82: Facial Expressions 162
Worksheet 83: Tone of Voice 163
Worksheet 84: Body Language 164
Worksheet 85: Sincerity 165
Skill 18: Knowing Expectations 166
Instructor Pages 166
Worksheet 86: Knowing What to Expect: People 168
Worksheet 87: Knowing What to Expect: Situations 169
Worksheet 88: Knowing What Is Expected: Tasks 170
Worksheet 89: Knowing What to Expect: Past Experiences 171
Worksheet 90: Knowing What Is Expected: Commonsense Clues 172xxx
Skill 19: Negotiating or Compromising 173
Instructor Pages 173
Worksheet 91: Negotiation as a Social Skill 175
Worksheet 92: Why You Can't Always Have Your Own Way 177
Worksheet 93: Situations to Negotiate 178
Worksheet 94: Things That Aren't Negotiable 179
Worksheet 95: Practice Negotiating 180
Skill 20: Understanding Another's Point of View 181
Instructor Pages 181
Worksheet 96: Introduction to a Different Viewpoint 183
Worksheet 97: Identifying Different Points of View 184
Worksheet 98: What's the Basis for This Point of View? 185
Worksheet 99: Changing Your Situation, Changing Your Opinion 186
Worksheet 100: What Are Your Opinions? 187
Skill 21: Being Flexible 188
Instructor Pages 188
Worksheet 101: Handling Changes 190
Worksheet 102: Changing Your Plans 191
Worksheet 103: Changing Your Mind 192
Worksheet 104: Being Open to New Things 195
Worksheet 105: Reflecting 197
Skill 22: Respecting Authority 198
Instructor Pages 198
Worksheet 106: Interacting with Your Supervisor 200
Worksheet 107: When Your Boss Is Wrong 202
Worksheet 108: Other Authority Figures 203
Worksheet 109: Other Types of Authority 205
Worksheet 110: What Would You Do? 207
Skill 23: Making Others Feel Comfortable 208
Instructor Pages 208
Worksheet 111: The Play 210
Worksheet 112: Embarrassing Moments for Others 211
Worksheet 113: Helping Others Through Stressful or Uncomfortable Situations 212
Worksheet 114: Ordinary Times to Be Outgoing 213
Worksheet 115: Things to Beware Of! 214
Skill 24: Working with Others 215
Instructor Pages 215
Worksheet 116: Sharing a Job 217
Worksheet 117: Working as a Team 219
Worksheet 118: Cooperating with Authority 220
Worksheet 119: Brainstorming 221
Worksheet 120: Carrying Out Your Responsibilities 222
Skill 25: Dealing with Strangers 223
Instructor Pages 223
Worksheet 121: Being Overly Friendly to Strangers 225
Worksheet 122: Strangers Who Ask Too Much 226
Worksheet 123: When You Want Something 227
Worksheet 124: Rude Behavior of Others 228
Worksheet 125: From Stranger to Friend 229
Skill 26: Reacting Appropriately to Peer Pressure 230
Instructor Pages 230
Worksheet 126: Feeling the Pressure 232
Worksheet 127: Everybody's Doing It 233
Worksheet 128: Positive and Negative Peer Pressure 234
Worksheet 129: When There's a Conflict 236
Worksheet 130: Resisting Negative Pressure 237
Skill 27: Revealing Yourself to Others 238
Instructor Pages 238
Worksheet 131: Mysterious or Just Plain Quiet? 240
Worksheet 132: Why Tell About Yourself? 241
Worksheet 133: Revealing Things to Be Polite 242
Worksheet 134: Revealing Things to Make Conversation 243
Worksheet 135: Take a Risk, Open Up 244
Part Two: Using Social Skills 245
Chapter 4 Using Social Skills at Home 247
Instructor Pages 247
Worksheet 136: Getting Along with Parents 251
Worksheet 137: Getting Along with Siblings 252
Worksheet 138: Balancing Responsibilities and Desires 253xxxxxxx
Worksheet 139: Intrusions on Privacy 255
Worksheet 140: Handling a Divorce or Family Split 256
Worksheet 141: Living with Abusive or Dysfunctional Family Members 258
Worksheet 142: Spending Quality Time with My Family 259
Worksheet 143: Learning About My Family 261
Worksheet 144: Becoming Independent 262
Worksheet 145: Forgiving Others 263
Worksheet 146: I'm Embarrassed About My Family 265
Worksheet 147: Being Proud of My Family 267

Chapter 5 Using Social Skills at School 269
Instructor Pages 269
Worksheet 148: Getting Along with Teachers or Authority Figures 273
Worksheet 149: Managing a Social Life 275
Worksheet 150: Asking for Help 277
Worksheet 151: Failing Classes 278
Worksheet 152: Discipline Problems 279
Worksheet 153: Intimidation from Other Students 280
Worksheet 154: Developing a Bad Attitude Toward School 281
Worksheet 155: Getting Involved in Extracurricular Activities 283
Worksheet 156: Giving Extra Effort Toward Excellence 284
Worksheet 157: School Goals 285
Worksheet 158: Work-Study Options 286
Worksheet 159: School Safety 287

Chapter 6 Using Social Skills at Work 289
Instructor Pages 289
Worksheet 160: Getting Along with Your Supervisor 294
Worksheet 161: Getting Along with Coworkers 296
Worksheet 162: Understanding the Skills Required for the Job 297
Worksheet 163: Developing Good Work Habits 298
Worksheet 164: Following Instructions 299
Worksheet 165: Dealing with Complaining Customers 300
Worksheet 166: Being Resourceful 301
Worksheet 167: Taking Initiative for Promotion 302
Worksheet 168: Sick Days 304
Worksheet 169: Cell Phones at Work 306xxx
Worksheet 170: What Not to Wear, Say, Do 308
Worksheet 171: Workplace Work Space 309
Chapter 7 Using Social Skills with Peers 311
Instructor Pages 311
Worksheet 172: Respecting Others as Individuals 316
Worksheet 173: Developing Healthy Relationships with the Opposite Sex 317
Worksheet 174: Taking Advantage of Social Opportunities 319
Worksheet 175: Deciding How Much Influence Others Will Have over You 320
Worksheet 176: Getting Involved with People with Problems 321
Worksheet 177: Feeling Outcast 323
Worksheet 178: When a Friend Is in Trouble 324
Worksheet 179: Choosing to Befriend Someone 325
Worksheet 180: Becoming a Good Conversationalist 326
Worksheet 181: Being a Peer Role Model 328
Worksheet 182: Misunderstandings 330
Worksheet 183: Taking and Giving 331

Chapter 8 Using Social Skills in the Community 333
Instructor Pages 333
Worksheet 184: Having Respect for the Property of Others 336
Worksheet 185: Demonstrating Good Manners Toward Others 337
Worksheet 186: Respecting Community Authority Figures 338
Worksheet 187: Being Aware of Local Issues 339
Worksheet 188: Supporting Efforts to Improve the Community 340
Worksheet 189: Dealing with Unhelpful People 342
Worksheet 190: Volunteering at Agencies 343
Worksheet 191: Your Local Newspaper 344
Worksheet 192: Helping Each Other 345
Worksheet 193: Promoting Your Community 346
Worksheet 194: Getting to Know People in Your Community 347
Worksheet 195: Participating in Community Events 348