Social Struggles in Archaic Rome: New Perspectives on the Conflict of the Orders, 2nd, Expanded and Updated Edition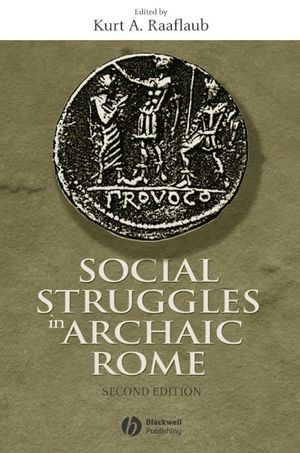 Social Struggles in Archaic Rome: New Perspectives on the Conflict of the Orders, 2nd, Expanded and Updated Edition
ISBN: 978-1-405-10061-8 January 2006 Wiley-Blackwell 448 Pages
Description
This widely respected study of social conflicts between the patrician elite and the plebeians in the first centuries of the Roman republic has now been enhanced by a new chapter on material culture, updates to individual chapters, an updated bibliography, and a new introduction.


Analyzes social conflicts between patricians and plebeians in early republican Rome

Includes chapters by leading scholars from both sides of the Atlantic illuminating social, economic, legal, religious, military, and political aspects as well as the reliability of historical sources

Contributors have written addenda for the new edition, updating their chapters in light of recent scholarship
Table of contents
Notes on Contributors.
Preface to the second edition.
Preface to the first edition.
Chronological Table.
Abbreviations.
1. The Conflict of the Orders in Archaic Rome: A Comprehensive and Comparative Approach.
Kurt A. Raaflaub.
2 The Value of the Literary Tradition Concerning Archaic Rome: Timothy J. Cornell.
3 The Formation of the "Annalistic Tradition": The Example of the Decemvirate: Jürgen von Ungern-Sternberg.
4. The Contribution of Archaeology to Early Roman History: Russell T. Scott.
5. Patricians and Plebeians: The Origins of a Social Dichotomy: Jean-Claude Richard.
6. The Definition of patres and plebs: An End to the Struggle of the Orders: Richard E. Mitchell.
7. The Rise of the plebs in the Archaic Age of Rome: Arnaldo Momigliano.
8. From Protection and Defense to Offense and Participation: Stages in the Conflict of the Orders: Kurt A. Raaflaub.
9. Religious Aspects of the Conflict of the Orders: The Case of confarreatio: Jerzy Linderski.
10. The Political Significance of the Codification of Law in Archaic Societies: An Unconventional Hypothesis: Walter Eder.
11. The Tenth Table and the Conflict of the Orders: Mark Toher.
12. The Integration of the Plebians into the Political Order after 366 bc: Robert Develin.
13. The End of the Conflict of the Orders: Jürgen von Ungern-Sternberg.
Bibliography.
Index of Subjects.
Index of Persons and Places.
Index of Scholars.
Index of Sources
Reviews
"A path-breaking collection of articles and a model of collaborative enterprise when it first appeared,
Social Struggles
has long been essential reading for students and scholars alike of the Republic's early history. Its re-publication in an expanded second edition is to be warmly welcomed. Quite simply, it is the best introduction available in any language to the complexities of this poorly understood but crucial period in Rome's rise to world power."
Nathan Rosenstein, The Ohio State University
"Raaflaub's collection of essays has since its appearance been a standard work of reference and guide to the complexities of early Rome. The alternative views expressed on key issues make this a rich and rewarding account. Now updated, Social Struggles in Ancient Rome will once again define the future course of research in the field." Christopher J Smith, University of St Andrews

"Raaflaub's revised publication should continue to stimulate debate regarding Rome's social, political and religious organization in the first centuries of the Republic."
Scholia Reviews
Features


Analyzes social conflicts between patricians and plebeians in early republican Rome

Includes chapters by leading scholars from both sides of the Atlantic illuminating social, economic, legal, religious, military, and political aspects as well as the reliability of historical sources

Features a new chapter on aspects of material culture and a new introduction

Contributors have written addenda for the new edition, updating their chapters in light of recent scholarship

Includes an updated bibliography