Social Theory and Modernity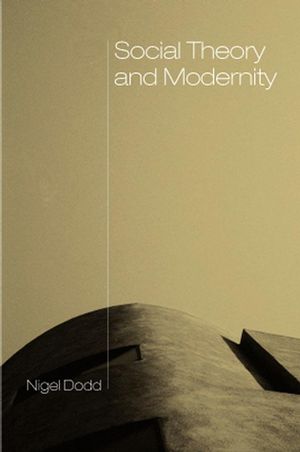 Social Theory and Modernity
ISBN: 978-0-745-61313-0
Oct 1999
288 pages
Description
This major new textbook in social theory takes the concept of modernity as its guiding theme.
Acknowledgements.
Introduction: Modern and Postmodern Social Theory.
Part I: Classical Social Theory.
1. Modernity and Society: Marx and Durkheim.
2. Modernity and Reason: Simmel and Weber.
Part II: Modern Social Theory.
3. A Critique of Reason: Horkheimer, Adorno and Marcuse.
4. Reason and Power: Foucault.
5. The Potential of Reason: Habermas.
Part III: Postmodern Social Theory.
6. Reality in Retreat: Lyotard and Baudrillard.
7. Society under Suspicion: Bauman and Rorty.
8. Modernity Renewed: Giddens and Beck.
Conclusion.
Notes.
References.
Index.
'Nigel Dodd is to be congratulated for a most intelligent, mature, organized, balanced, and sane account of the major trends in European social theory over the last century and a half. I know of no sounder secondary source on the theories of modernity and postmodernity. He brings clarity and order to a range of literature that is too often murky and unordered, and for that several generations of scholars and students will be grateful.'
--
Neil J. Smelser, Center for Advanced Study in the Behavioral Sciences, Stanford
'[An] excellent guide to the state of the art in contemporary social theory...provide[s] excellent critical accounts of the evolution and contemporary relevance of modern social theory.' (Sociological Research Online)

'Dodd's work is thus both a survey of social theory...and an effort to find a new way forward. The book is consciously positioned as a college course text, meaning that unlike truckloads of others on the subject, it is both readable and explicable for those without an MA in the History of Consciousness.' (Canadian Journal of Political Science)
* An accessible introduction to social theory, both classical and contemporary.
* Focuses on the concept of modernity, which is used as a lens to examine a wide range of theoretical literature.
* Covers the work of key theorists from Marx, Durkheim and Weber through to the Frankfurt School, Habermas, Foucault, Baudrillard, Bauman, Giddens and Beck.