Social Theory and Philosophy for Information Systems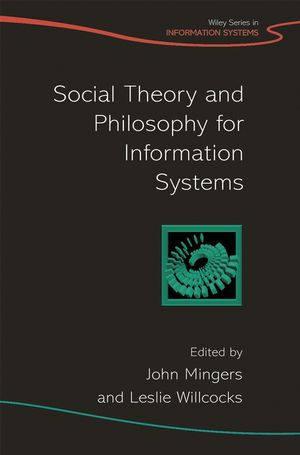 Social Theory and Philosophy for Information Systems
ISBN: 978-0-470-01121-8
Apr 2005
472 pages
Description
As Information Systems matures as a discipline, there is a gradual move away from pure statistics towards consideration of alternative approaches and philosophies. This has not been incorporated into the literature of the field. Until now. Collecting major social theorists and philosophers into one volume, Social Theory and Philosophy for Information Systems provides a historical and critical analysis of each that is both authoritative and firmly focused on practical relevance to IS. The result is an insightful text for researchers, academics and students that will provide an up-to-date starting point for those considering alternative approaches.
List of Contributors.
Series Preface.
Preface.
1. Thinking about Social Theory and Philosophy for Information Systems (Allen S. Lee).
2. Fit for Function: Functionalism, Neofunctionalism and Information Systems (M. Lynne Markus).
3. Phenomenology, Screens, and the World: A Journey with Husserl and Heidegger into Phenomenology (Lucas D. Introna and Fernando M. Ilharco).
4. Hermeneutics in Information Systems Research (Michael D. Myers).
5. Adorno: A Critical Theory for IS Research (Stephen K. Probert).
6. The Critical Social Theory of J ¨ urgen Habermas and its Implications for IS Research (Heinz K. Klein and Minh Q. Huynh).
7. Foucault, Power/Knowledge and Information Systems: Reconstructing the Present (Leslie P. Willcocks).
8. Structuration Theory and Information Systems: A Critical Reappraisal (Matthew Jones, Wanda Orlikowski and Kamal Munir).
9. WhatWe May Learn from the Social Shaping of Technology Approach (Debra Howcroft, Nathalie Mitev and Melanie Wilson).
10. Re-establishing the Real: Critical Realism and Information Systems (John Mingers).
11. Complexity and Information Systems (Yasmin Merali).
Index.
"...I would highly recommend that all libraries...acquire a copy of this book..." (Journal of the Operational Research Society, No 57, 2006)
Builds upon the broadening research within IS and offers an alternative angle - has been well-reviewed by leading thinkers and has the potential to change the way IS is taught

Covers all the key theories with significant relevance to IS, including phenomenology, hermeneutics and ethnography, structuration theory, critical theory, post-structuralism, and critical realism
The authors are authorities in the field and have attracted a range of expert contributors from leading universities