Social Theory and Postcommunism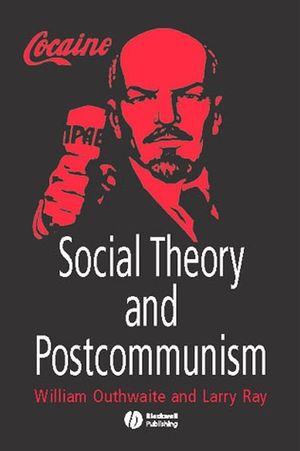 Social Theory and Postcommunism
ISBN: 978-1-405-13784-3
Apr 2008, Wiley-Blackwell
264 pages
Description
Social Theory and Postcommunism undertakes a thorough study of the implications of post-communism for sociological theory. Written by two leading social theorists, the book discusses the thesis that the fall of communism has decimated alternative conceptions of social organizations other than capitalism.
Analyzes the implications of the fall of communism on social theory
Discusses alternative ideas of social organizations other than capitalism, in the wake of the collapse of communism
Covers state/civil society, globalization, the future of "modernity," and post-socialism
Preface.
Introduction: Being Taken By Surprise.
1 Theory After the Fall.
2 Class: Marx and Weber.
3 Society, Solidarity and Anomie: Durkheim.
4 Three Types of Convergence.
5 Socialism, modernity and beyond.
6 Globalization and Convergence.
7 Civil Society East and West.
8 Modernity, memory and postcommunism.
9 Concluding Themes.
Index
"[This] book is important. The theoretical challenges and chances for reinvigoration that postcommunism represents have undoubtedly been overlooked thus far. Outhwaite and Ray have provided a very suggestive redress." Australian Journal of Political Science
"This book offers an insightful and refreshingly jargon-free examination of the major dilemmas faced by post-Communist polities in their search for constructing democratic communities ... Students of democracy, globalization, civil society, nationalism and political ideologies will find this book extremely useful." Seer
"No doubt ... the book deserves the attention that it is likely to attract." American Journal of Sociology
"This book offers an insightful and refreshingly jargon-free examination of the major dilemmas faced by post-Communist polities in their search for constructing democratic communities. Students of democracy, globalization, civil society, nationalism and political ideologies will find this book extremely useful." Slavonic and East European Review
"[Each chapter] offers a survey of a significant body of literature... In their literature surveys, Outhwaite and Ray provide clear and engaging overviews. The chapters are written for readers well versed in both classical and contemporary sociology. Each is valuable on its own as an informed essay on a major theme in social theory... There is much to appreciate in what Outhwaite and Ray have to say in this book, including both their respect for the stubbornness of reality in contradicting our ideas and their moral concern for the economic and political injustice that persists in the face of that reality." Philosophy of the Social Sciences
"A significant event in social theory's ongoing return to earth after its prolonged fit of factless abstractionalism, made all the more valuable by the authors' knowledge of, and respect for, the world's particularity. A genuinely thoughtful and thought provoking book." Anthony Woodiwiss, City University
Analyzes the implications of the fall of communism on social theory

Discusses alternative ideas of social organizations other than capitalism, in the wake of the collapse of communism

Covers state/civil society, globalization, the future of "modernity," and post-socialism
Written by two leading social theorists