Social Work and Mental Health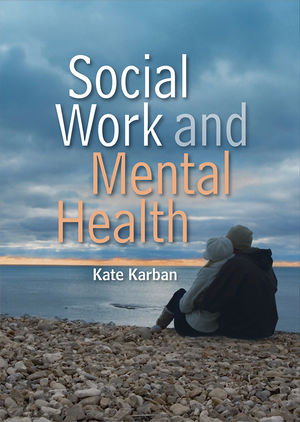 Social Work and Mental Health
ISBN: 978-0-745-64611-4
Jun 2011, Polity
224 pages
Description
Social Work and Mental Health offers a fresh approach to addressing mental health issues across all aspects of social work practice, emphasising the relevance of mental health for all social workers, not just those in specialist mental health settings.

The book provides critical engagement with the complexities of contemporary theory, policy and practice in this area, recognising developments in user and carer involvement and interprofessional working. Key chapters focus on issues of inequality and diversity, drawing attention to the social determinants of health and the important contribution of social work in promoting social perspectives in mental health. Practice issues addressed include the mental health of children, young people and families, and older people, as well as a range of mental health conditions that are likely to be encountered. Promoting rights, recovery and social justice - and balancing these with considerations of risk - are core themes that run throughout the text.

The book contains a number of practice examples and points for reflection intended to encourage critical thinking and further exploration of the issues raised. Suggestions for additional reading and resources are also offered at the end of each chapter.

Overall the book provides a valuable framework for understanding and responding to mental health issues that will be useful for all social work students and practitioners as well as a wider audience.
Introduction
PART 1 Perspectives on Mental Health
1 Voices from the Front Line: Users and Carers
2 Theories, Models and Concepts
3 The Policy Framework
4 The Legal Framework
PART 2 Mental Health, Inequalities and Diversity
5 Communities and Inequalities
6 Diversity
PART 3 Social Work Practice and Mental Health
7 The Mental Health Needs of Children, Young People and Families
8 The Mental Health Needs of Older People
9 Working with People Experiencing Depression, Anxiety and Trauma
10 Working with People Experiencing Psychosis
11 Interprofessional Working in Response to Risk
Conclusion
Appendix 1 Social Work National Occupational Standards
References

"Given the broad scope of Karban's book, she succeeds in covering key areas of theory, research and reflective practice for practicioners relatively new (or returning) to the topic and I would warmly recommend it as a useful resource for this audience."
British Journal of Social Work
"Kate Karban's book is approachable, well-informed and grounded in social work values and practice. Importantly it is not just for the specialist mental health practicioner; it shows how social workers can make positive contributions to the well-being of service users in many different settings."
Juliet Koprowska, Department of Social Policy and Social Work, York University
"A social approach to mental health is needed more than ever. Karban's Social Work and Mental Health provides social care practicioners with all the arguments necessary to defend their corner. This will be invaluable resource for trainees and those already working in the field."
David Pilgrim, School of Social Work, University of Central Lancashire
"Taking inspiration from a wide range of sources, particularly perspectives of people who have experience of mental distress, Kate Karban offers an excellent introduction to mental health social work. The field has long been dominated by biomedical constructions of 'mental illness' and it is most refreshing to read about people's social experiences and issues of inequality and diversity, which we know are major contributory factors to mental health difficulties."
Jerry Tew, Institute of Applied Social Studies, Birmingham University
Provides a well thought-out guide to social work with people with mental health problems, an essential component of social work with adults
Moves beyond a limited scope on psychiatric issues to embrace a broader range of social and policy perspectives on mental health
Fills a distinct gap in social work student book market, combining accessibility with a level of sophistication and critical engagement lacking in other basic series.
Student-friendly features include: chapter summaries, key lessons, boxed case studies and questions to provoke further thought.