Social Work in a Globalizing World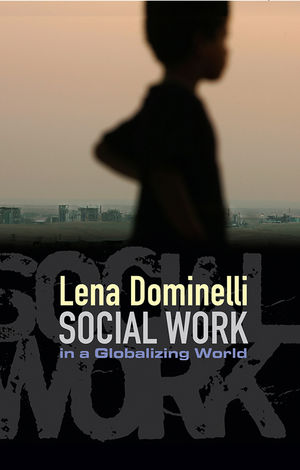 Social Work in a Globalizing World
ISBN: 978-0-745-64089-1 December 2010 Polity 224 Pages
Download Product Flyer
Download Product Flyer
Download Product Flyer is to download PDF in new tab. This is a dummy description. Download Product Flyer is to download PDF in new tab. This is a dummy description. Download Product Flyer is to download PDF in new tab. This is a dummy description. Download Product Flyer is to download PDF in new tab. This is a dummy description.
Description
This inspiring and stimulating book confronts contemporary challenges facing social workers. Many of the forms of human, social and environmental degradation addressed arise from social problems that have persisted over time, such as social work's own uncertain professional status, poverty, structural inequalities, migratory movements and armed conflicts. However, these challenges include newer problems rooted in the interdependent nature of the world. These issues centre on globalization, the worldwide recession that undermined fiscal sustainability in Western countries, environmental pollution, climate change and natural disasters, concerns which present fresh arenas for social worker involvement, and opportunities for innovation in social work theories and paradigms for practice.

In exploring the tensions that globalization creates for practice, Lena Dominelli reveals the diverse and heterogeneous nature of social work as a profession even though it has many facets that are shared across borders. In a fluid global context where migratory movements and the internationalization of social problems mean that problems that began in one country have significant implications and require action in another, social workers must support practices that endorse human rights, social justice and citizenship for all of the planet's inhabitants.

Social Work in a Globalizing World sets an ambitious agenda for social work and calls for international co-operation, alliances and action alongside local ones. Only then can its optimistic message of a viable end to the degradation of human beings and their physical environment be achieved.
Table of contents
Detailed Contents vi
Acknowledgements x
1 Introduction 1
2 Creating the New Profession of Social Work 9
3 Mapping Out the Terrain of 'the Social' 29
4 Professionalization, Practice Methods and Processes of Intervention 50
5 Social Work, Citizenship, Human Rights and Social Justice 76
6 Human, Social and Environmental Degradation 101
7 Globalizing the Local and Localizing the Global in Practice 127
8 Conclusions 151
References 174
Author Index 196
Subject Index 201
Reviews
"The strength of this book lies in its engaging narrative depicting the birth, development and future journey forward of social work as a profession. From this narrative the book draws sensible conclusions, with useful recommendations and suggestions, to help the reader understand the key characteristics of social work practice in a simple yet effective manner."
Practice: Social Work in Action


"Timely and well-written, this thought-provoking book is a call for social workers to rise to meet the challenges of the twenty-first century in the interests of global social justice and human rights."
Social Policy
"This book would be of huge value to anyone entering the politics of international social work or who is debating the future of the College of Social Work beyond borders".
Professional Social Work
"Lena Dominelli's extremely readable book not only analyzes the dynamics of globalization but points the way forward to a more compassionate world in which international collaboration rather than exploitation characterizes the human condition. Social workers have much to learn from her insightful analysis."
James Midgley, University of California, Berkeley
"Lena Dominelli has always been at the forefront of commenting on some of the key issues for social work education and practice in our fast changing world. This book is a significant contribution to the contemporary debates and will prove both controversial and important. I encourage you to engage with it."
Keith Popple, London South Bank University
"This book presents to the reader complex issues, debates and arguments in Professor Dominelli's characteristically informal and engaging narrative style. The breadth of issue she covers is wide and all encompassing. This book ensures that social work scholarship will survive the present challenges of 'legitimacy and porous borders' and help re-position social work in the forefront of critical debates in the globalised world."
Carolyn Noble, Victoria University, Melbourne
Features
Written by a leading social work academic whose work is internationally renowned.
Confronts contemporary challenges facing social workers in relation to globalization and the rise of international global problems.
Identifies the fresh arenas and opportunities for innovation and social worker involvement offered by globalization.
Advocates increased international co-operation in order to maximize social work's salutary potential in today's world.