Social Work with Young People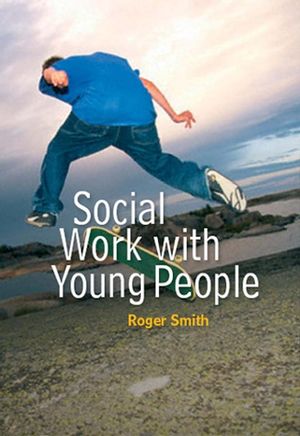 Social Work with Young People
ISBN: 978-0-745-63913-0
Sep 2008, Polity
224 pages
Description
This comprehensive textbook provides an engaging and accessible guide to working with young people in a range of social work settings. It places clear emphasis on the development of key skills, but doesn't shy away from important theories and evidence. The book explains why taking a usercentred approach is important, and highlights ways in which this can be put into practice.

Chapter by chapter, the book introduces the reader to the challenges and potential of working with a range of groups, such as offenders, young people with disabilities, teenage parents, and young asylum seekers and refugees. The book explains clearly the current policies and organizational frameworks which shape social work practice. At the same time, it recognizes that effective social work practice is about much more than simply meeting guidelines, and gets to grips with the day-today realities of working with young people.

Throughout, case studies are used to encourage readers to reflect on the people and situations they might encounter. In addition, each chapter includes an easy-to-follow summary, questions and annotated suggestions for additional reading – all written with the aim of stimulating readers' professional development.

Social Work with Young People will be essential reading for social work students at undergraduate, postgraduate and post-qualifying level. It will also appeal to anyone who cares about developing a social work practice agenda with young people which is rooted in the principles of social justice.
Introduction: Difficult Transitions and the Role of Social Work.
Part I. Young People: Who are they and what are they like?.
Chapter 1: Who are we talking about? Young people and their changing lives.
Chapter 2: Why are young people seen as a social problem?.
Chapter 3: Looking at things from young people's perspective.
Part II. Social Work and Young People: Contexts and Practice.
Chapter 4: The relationship between ideas and practice.
Chapter 5: Care or control? Balancing responsibilities.
Chapter 6: Young people's experiences and expectations of social work.
Part III. Meeting the Challenge: Working Effectively with Young People.
Chapter 7: Starting from where young people are.
Chapter 8: Dealing with risk.
Chapter 9: Social Inclusion, Young People and the Role of Social Work.
Chapter 10: Towards effective practice
"A comprehensive and stimulating review of contemporary social work practice ... The underpinning recommendation to shift the dialogue from one of social threat to social possibility is uplifting and much needed."
Four star review in Community Care
"Roger Smith has a wide understanding of the theory and practice of work with young people, which he makes available to readers in a way that is both accessible and scholarly. The book has real depth and intellectual rigour, and a sustained relevance to practice."
Nigel Thomas, University of Central Lancashire
"This book represents a very welcome and substantial addition to the literature on social work with young people. Taking as its starting point the problematic nature of youth, and the uncertainty surrounding contemporary social work, it skillfully, and in depth, explores the contextual implications of these two themes, drawing on a wide range of research, policy and theoretical material. This provides a robust and coherent foundation for a concluding discussion of providing effective social work practice with young people."
Mike Stein, University of York
"Roger Smith's book is an excellent critical introduction for social work students and practitioners on working with young people. Blending theory, research and practice it challenges assumptions, champions a user-centred aproach and promotes social justice to this contested and contentious area of practice."
Hugh McLaughlin, School of Community, Health Sciences and Social Care


There is nothing like this on the market that focuses on young people as a whole, rather than on sectors of youth (e.g. young offenders, young people in care etc.)


Suitable on a wide range of social work courses, e.g. children and families, drugs and alcohol users, mental health, family support - should be widely marketed.


All social work students will cover young people in some way during their courses.


This fills a distinct gap in the social work student book market: it is aimed at and accessible to students but with a level of sophistication lacking in other very basic books published by Learning Matters.


Praised by reviewers for its emphasis on how to build relationships with young people - not just a list of technical fixes.


Student-friendly features include: chapter summaries, key lessons, boxed case studies and questions to provoke thought.