Socialism After Communism: The New Market Socialism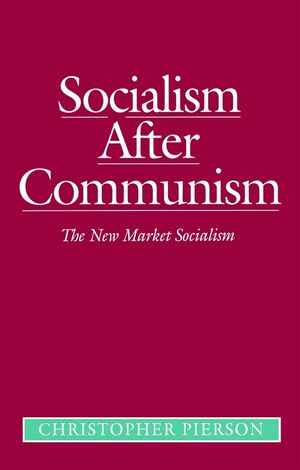 Socialism After Communism: The New Market Socialism
ISBN: 978-0-745-61458-8
Apr 1995, Polity
264 pages
Description
In this book the author examines the concept of "the end of socialism" assessing the evidence that underpins this position, analysing market socialism and confronting the question of whether any form of socialism can any longer be thought to be "feasible".
Preface.
Introduction.
Part I: The Death of Socialism? .
1. Socialism's Disappearing Social Base.
2. The Declining Political Economy of Socialism.
3. The Ideological and Epistemological Crises of Socialism at 'The End of History'.
Part II: The Case For Market Socialism. .
4. A Model of Market Socialism.
Part III: Market Socialism Assessed. .
5. Market Socialism: 'A Contradiction in Terms'?.
6. The Political Economy of Labour Management.
7. Democracy and State under Market Socialism.
8. Feasible Socialism?.
Conclusion.
Notes.
Bibliography.
Index.
"This is an agnostic book and it is all the more credible for that. It clears a great deal of intellectual rubbish out of the way and establishes that the real questions for socialists now are precisely the ones occluded by the new Clause 4."
New Statesman and Society
"A valuable source for the more advanced undergraduate student of contemporary politics and for those exercised by debates over socialism's future." Aslib Book Guide
"This is an excellent book. It is rare that one has the opportunity to review a work that is comprehensive in its scope of analysis and also written in an extremely readable style. Christopher Pierson reviews debates about market socialism, in terms of its various features and practical feasibility, in a manner that academics and non-academics, specialists and non-specialists will find easy to understand. This is essential reading for all those with an interest in the potential of socialism in modern society." British Journal of Sociology
* This book critically confronts the new orthodoxy of 'the end of socialism', and offers a systematic critique of leading models of socialist thought focusing, in particular, on market socialism.
* The author assesses the place of socialism in the future, and defends a vigorous new conception of socialist politics.
* This book will become the standard work on socialist theory and the prospects of market socialism with a wide market both in politics and sociology departments and among all those interested in the debate about the future of socialism.