Socio-Legal Studies in Context: The Oxford Centre Past and Future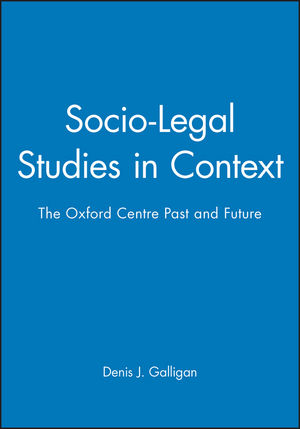 Socio-Legal Studies in Context: The Oxford Centre Past and Future
ISBN: 978-0-631-19681-5
Jun 1995
180 pages
Description
Socio-Legal Studies in Context is the first attempt to take stock of the development of socio-legal studies in the United Kingdom. With an increasing awareness amongst legal scholars of the need for socio-legal research, this volume is essential reading for all teachers of law and law related subjects. It will provide rich ideas for young researchers wishing to involve themselves in the socio-legal approach. The volume also provides an opportunity for more experienced researchers to look back and re-assess their own work and help them form their own plans for the future.
1. Introduction: Denis J. Galligan (Oxford Centre for Socio-Legal Studies).
2. Sociology and the Stereotype of the Police: Paul Rock (London School of Economics).
3. A Critical Survey of Law and Economics in the UK and the role of the Oxford Centre: Anthony Ogus (University of Manchester).
4. Remembering 1972: The Oxford Centre in the Context of Developments in Higher Education and the Disciplines of Law: William Twining (University College London).
5. Horatio's Mistake: Maureen Cain (West Indies).
6. The Challenges of Socio-Legal Research: Shari Diamond.
7. Global Approaches in the Sociology of Law: Volkmar Gessner (Bremen).
8. On Old and New Battles: Obstacles to the Role of Law in Eastern Europe: Andras Sajo (Central European University).
9. Being Social in Socio-Legal Studies: Peter Fitzpatrick (University of Kent).
10. Contested Communities: Richard Abel (UCLA).
11. The Future of Socio-Legal Research with Respect to Environmental Problems: Michael Faure (Limburg).
12. Geoffrey Stephenson (University of Kent).
13. What Socio-Legal Scholars should do when there is too much Law to Study: Robert Kagan (Berkeley).
14. The Last Word: Stewart Macauley (Wisconsin-Madison).
Bibliography.
Index.