Sociologies of Moderation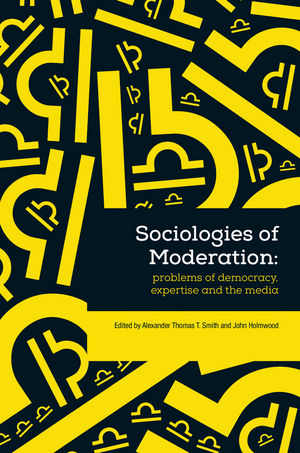 Sociologies of Moderation
ISBN: 978-1-118-82502-0
Dec 2013, Wiley-Blackwell
228 pages
Product not available for purchase
Description
Sociological Review Monograph Featured onTHINKING ALLOWED (Radio 4) on 29th January and 5th February 2014

Contributions from the most recent Sociological Review Monograph, SOCIOLOGIES OF MODERATION (edited by Alex Smith and John Holmwood), featured on Radio 4's Thinking Allowed on 29 January and 5 February 2014. While 'moderation' was once a potent social idea and ideal grounded in compelling cultural, intellectual and religious traditions, it has in recent decades fallen out of fashion as political forms engage with mass consumerism, neoliberal economics and religious fundamentalisms. Against this background, and in an age characterised by excess and extremism, SOCIOLOGIES OF MODERATION offers a sociological reappraisal of the intellectual foundations and contemporary salience of moderation. The importance and timeliness of its arguments will be discussed on Laurie Taylor's programme.

******************************************
Sociologies of Moderation presents a series of original papers that explore the origins, intellectual foundations, and relevance of moderation in 21st-century politics, religion, and society.
Reappraises an old idea—'moderation'—in order to salvage and recast it for the challenges of 21st-century politics, religion, and society
Represents an important and innovative concept for contemporary times
Brings together leading sociologists and social theorists from Britain and America as well as emerging scholars conducting original empirical research in the US, the UK, and beyond
Makes a timely contribution to contemporary debates regarding the future of democracy, expertise, and the role of the media
Preface and acknowledgements
 Series editor's introduction (Chris Shilling)
1. Sociologies of moderation (Alexander Thomas T. Smith and John Holmwood)
2. Plundering the commons: the growth imperative in neoliberal times (Robert J. Antonio)
3. Moderation impossible? On hype, honesty and trust in the context of modern academic life (Brigitte Nerlich)
4. Blurred visions: experts, evidence and the promotion of moderate drinking (Henry Yeomans)
5. Restoring social creativity to immoderate publics: the case of the financially incontinent citizen (Jeff Vass)
6. Feminist 'radicality' and 'moderation' in times of crises and change (Srila Roy)
7. Democracy begins at home: moderation and the promise of salvage ethnography (Alexander Thomas T. Smith)
8. Pride and prejudice: gay rights and religious moderation in Belfast (Jennifer Curtis)
9. The blogosphere and its enemies: the case of oophorectomy (Stephen Turner)
10. Rethinking moderation in a pragmatist frame (John Holmwood)
11. Epilogue: The moderation of rhetoric (Rt Revd Nicholas Baines)
Notes on contributors
Index
"As an academic who intersects both the humanities and social sciences I found the breadth of topics covered brought this volume to life in a way that was both accessible and thought provoking.  As an academic who intersects both the humanities and social sciences I found the breadth of topics covered brought this volume to life in a way that was both accessible and thought provoking."  (The Sociological Review, 3 June 2014)