Sociology For Dummies, UK Edition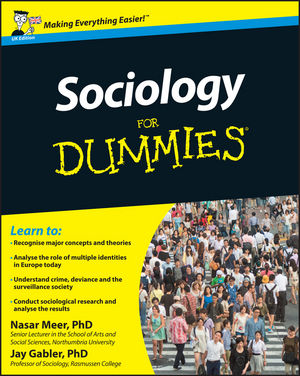 Sociology For Dummies, UK Edition
ISBN: 978-1-119-99184-7
Mar 2011
384 pages
Description
Sociology For Dummies helps you understand the complex field of sociology, serving as the ideal study guide both when you're deciding to take a class as well as when you are already participating in a course. Avoiding jargon, Sociology For Dummies will get you up to speed on this widely studied topic in no time.

Sociology For Dummies, UK Edition:
Provides a general overview of what sociology is as well as an in-depth look at some of the major concepts and theories.
Offers examples of how sociology can be applied and its importance to everyday life
Features an in-depth look at social movements and political sociology
Helps you discover how to conduct sociological research
Offers advice and tips for thinking about the world in an objective way
Introduction.
Part I: The Basic Basics.
Chapter 1: Sociology: Getting Your Head around It.
Chapter 2: What Is Sociology, and Why Should I Care?
Chapter 3: Making It Up As They Went Along: The History of Sociology.
Chapter 4: Research Methods: Because You Can't Put Society in a Test Tube.
Part II: Seeing Society Like a Sociologist.
Chapter 5: Socialisation: What is 'Culture,' and Where Can I Get Some?
Chapter 6: Microsociology: If Life Is a Game, What Are the Rules?
Part III: Equality and Inequality in Our Diverse World.
Chapter 7: Caught in the Web: The Power of Networks.
Chapter 8: Social Stratifi cation: We're All Equal, But Some of Us Are More Equal Than Others.
Chapter 9: Gender and Ethnicity: I Know My Race, But Where's the Finish Line?
Chapter 10: Ways of Belonging: Citizenship and National Identities.
Chapter 11: Getting Religion: Faith in the Modern World.
Chapter 12: Crime and Deviance: I Fought the Law . . . and I Won!
Part IV: All Together Now: The Ins and Outs of Social Organisation.
Chapter 13: Corporate Culture: The Study of Organisations (and Disorganisations).
Chapter 14: The Rules of the Game: Social Movements and Political Sociology.
Chapter 15: Urban Sociology and Demographics: (Ain't No) Love in the Heart of the City.
Part V: Sociology and Your Life.
Chapter 16: The Family and the Life Course.
Chapter 17: Future Passed: Understanding Social Change.
Part VI: The Part of Tens.
Chapter 18: Ten Sociology Books That Don't Feel Like Homework.
Chapter 19: Ten Ways to Use Sociological Insight in Everyday Life.
Chapter 20: Ten Myths About Society Busted by Sociology.
Index.