Socrates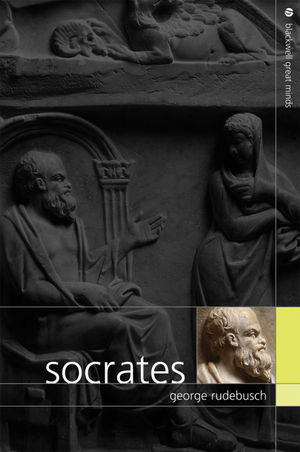 Socrates
ISBN: 978-1-405-15085-9 September 2009 Wiley-Blackwell 240 Pages
Description
Socrates
presents a compelling case for some life-changing conclusions that follow from a close reading of Socrates' arguments.
Offers a highly original study of Socrates and his thought, accessible to contemporary readers
Argues that through studying Socrates we can learn practical wisdom to apply to our lives
Lovingly crafted with humour, thought-experiments and literary references (from the Iliad to Harry Potter), and with close reading sof key Socratic arguments
Aids readers with diagrams to make clear complex arguments
Table of contents
Table of Contents.
Introduction.
Life.
Sources.
Method.
Interpreting Socrates.
Human Excellence and Happiness.
Wisdom and Virtue.
Knowledge and Belief.
Power and Freedom.
God and Love.
The Philosophical Life
Reviews
"The book is well and lucidly written, with plentiful tables and diagrams and excerpts . . ..She will have to be a bright student, because some of Rudebusch's arguments are quite subtle; but I, for one, would have no hesitation in recommending the book to such a student."  (The Heythrop Journal, 4 September 2013)
"A lucid and engaging account of the philosophy of Socrates. ... The experience of this book will be joyous for many readers, as it was for me. Rudebusch's advocacy of Socrates as a thinker who has much to tell us about the good human life is carried off with passion and grace, as well as an enviable succinctness and clarity. It is a treatment that I expect will succeed, deservedly, in winning over new advocates." (
Notre Dame Philosophical Reviews
, April 2010)
Features
Offers a highly original study of Socrates and his thought, accessible to contemporary readers
Argues that through studying Socrates we can learn practical wisdom to apply to our lives
Lovingly crafted with humour, thought-experiments and literary references (from the Iliad to Harry Potter), and with close reading sof key Socratic arguments
Aids readers with diagrams to make clear complex arguments