Software Design: From Programming to Architecture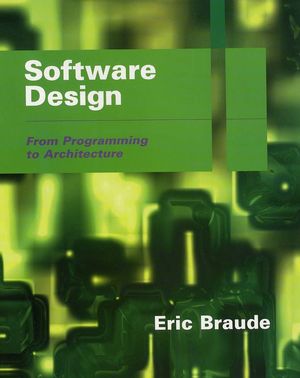 Software Design: From Programming to Architecture
ISBN: 978-0-471-20459-6
Feb 2003
576 pages
Description
All Computer Scientists and Software Engineers need to understand software design, but until now there hasn't been one, complete, up-to-date guide to its theory and practice.
Eric Braude's Software Design: From Programming to Architecture begins at the code level with programming issues such as robustness and flexibility in implementation. Increasing in abstraction and scope, the book then moves to mid-level issues, emphasizing a thorough understanding of standard design patterns and components. Finally, the book ends with high-level issues such as architectures, frameworks, and object-oriented analysis and design. In addition, the text contains a prologue on software process, making it versatile enough to use in a software engineering course.
Preface.
Acknowledgments.
Prologue: The Software Process.
PART I: DESIGN PRINCIPLES, THE UNIFED MODELING LANGUAGE, AND CODE-LEVEL DESIGN.
Chapter 1. Programming Review and Introduction to Software Design.
Chapter 2. Object-Orientation.
Chapter 3. The Unified Modeling Language.
Chapter 4. Design Principles I: Correctness and Robustness.
Chapter 5. Design Principles II: Flexibility, Reusability, and Efficiency.
PART II: DESIGN PATTERNS.
Chapter 6. Introduction to Design Patterns.
Chapter 7. Creational Design Patterns.
Chapter 8. Structural Design Patterns.
Chapter 9. Behavioral Design Patterns.
PART III: COMPONENTS.
Chapter 10. Introduction to Components.
Chapter 11. JavaBeans.
Chapter 12. Microsoft Assemblies.
PART IV: OBJECT-ORIENTED ANALYSIS AND DESIGN.
Chapter 13. Requirements and Domain Classes.
Chapter 14. Architectures and Frameworks.
References.
Index.
Various design patterns, with detailed explanations, provide essential tools for academic and professional growth.
Examples of how to apply all the design patterns covered, with complete Java code for most examples.
Chapters on component technology motivate readers with highly engaging topics, such as JavaBeans.
Includes an extensive discussion of UML (Unified Modeling Language), with many UML samples and exercises.
Reviews the goals and objectives of good software design.
Provides chapters on C# and .NET (The book's main language is Java, but the author includes an overview of C# to show the application of Component technology in .NET).
Includes an introductory chapter on software process.
Web-based "starter" code for many of the exercises enables readers to learn concepts hands-on, without having to start every programming assignment from scratch.